Leader: Robin Howe 120-689-97255
Co-leader: Dan Carey 12062825978
Tour Contractor: Spice Roads
Trip Dates: Sun, 8 Jan 2023 -- Mon, 23 Jan 2023
Trip Classification: Intermediate
Trip Fee: $50 USD Note that the fee for this trip is NOT in Canadian Dollars.
Trip Numbers: minimum 12 , maximum 24
Trip Registration Opens: Mon, 13 Jun 2022 5:00 PM (pacific time)
Registration Lottery Ends: Fri, 17 Jun 2022 5:00 PM (pacific time)
Trip Registration Closes: Fri, 30 Sep 2022 5:00 PM (pacific time)
Ride Description:
CUSTOM MADE FOR CCCTS BY SPICE ROADS 16 DAYS / 15 NIGHTS - BANGKOK TO PHUKET 8-23 Jan 2023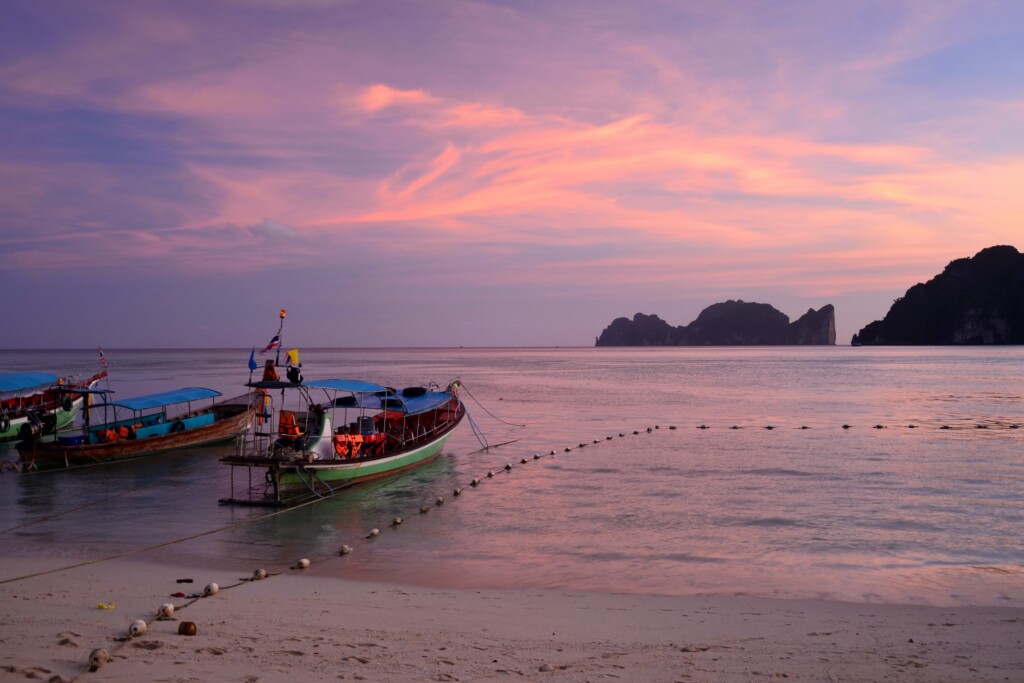 Note that ride fees vary based on the number of people on the tour, as follows: $3,450 U.S. for 12-14 persons; $3,300 for 16-24 persons. Single supplement cost is an additional $1,200. If you would like to request your own room, please email the leader to let them know after you register.  (Please note that if you are traveling solo, we will attempt to find a roommate match for you after the lottery runs. You should not feel like you can't sign up without first identifying a roommate.)  All prices quoted are in U.S. dollars.  
This is a custom-made tour just for CCCTS that will be 16 days and 15 nights and allow for lots of cycling and sightseeing.  Some of the things we will see include coconut and rubber plantations, shrimp farms, mangrove forests, endless white sandy beaches, a national park, and historical cities. Some of the things we can do other than cycling include swimming, snorkeling, kayaking, sun-bathing on the beach, squid fishing, boat excursions, hiking, shopping, and eating the delicious Thai food,
This tour is fully van-supported. The Tour Contractor – Spice Roads – has been in the cycle touring business for 26 years. They lead tours to 30 countries all over the world but specialize in tours in Asia.
Excerpted from Tour Contractor's website description of this cycling route:
This road cycling tour of Thailand sees you navigate almost 1,000 snaking kilometers of tropical shoreline and consistent tarmac following the best parts of Thailand's coastal range. Bangkok to Phuket cycling route swaps the Gulf of Thailand's sweeping sands for the clear blue waters of the Andaman Sea. Hang up your helmet, have your guides and mechanics service your road bike after each day while you relax on the warm sand and admire the sunset. Refuel on some of the freshest seafood in the region.
The bike tour warms up on the quiet countryside of the East Coast, heading for the Southern Thailand beach town of Hua Hin and beyond. Highlights include stunning beach views and limestone peaks as we carve down and through Sam Roi Yot, Thailand's first coastal National Park. Cycle inland over the Isthmus of Kra to Thailand's Western coastline and finally to the resort island of Phuket.
Pedal through Thailand's lush greenery and past idyllic beaches. This well-paved ride is punctuated by lush scenery and local flavor. It is a consistent cycling holiday favorite.
Excerpted from Tour Contractor's website description of Thailand:
Beyond the famous island beaches and iconic temples lies a welcoming local culture. Coupled with dizzyingly varied natural landscape and a network of scenic roads, Thailand makes for an altogether adventurous and satisfying cycling tour.
No other country encapsulates "spice" quite like Thailand. World renowned for its cuisine, Thai food is unquestionably some of the best in the world and delights even the most discerning foodie. Your tour through Thailand will be nothing short of delicious, with a variety of fresh local dishes quite literally peppering your journey through this colorful country.
Accommodation Reservations:
Nice hotels, including a night on a private island, and a resort where we stay in floating bungalows on rafts. Each accommodation is listed below in the description of the daily itinerary. You can look them up on the internet to get a better idea of our lodgings.
Riding Conditions:
See the description of each cycling day in the daily itinerary. Most of the cycling will be on paved surfaces. While some of the days are a bit long, you can always take a rest in one of our support vans if you wish.
According to an internet description of the weather in January for southern coastal Thailand: "Temperatures get down to 70 degrees Fahrenheit in Bangkok and can drop as low as 57 in the mountains with highs in the mid-80s to 90 throughout both regions. The southern peninsula sees cooler weather too with both coasts generally hovering in the mid-70s to mid-80s."  Be aware that cycling in hot conditions can be more tiring than the cooler climates we are used to.
Fee Includes:
Registration fee (of $50) payable to CCCTS includes:
If needed, Tour Coordinators' miscellaneous expenses such as phone calls, maps, etc.
Credit card stripe fee of 3% applicable to deposit fee only.
Tour fee payable directly to Spice Roads includes:
English speaking guides (group size of 12-18: 2 Guides / group size of 19-24: 3 Guides plus 1 Mechanic)
Transfer for riders from Novotel Suvarnabhumi Airport Hotel to Petchaburi (starting point) on Day 3
Transportation of the bike boxes direct to hotel in Phuket on Day 3
Supported Vehicles for Bikes and Luggage Transfer from Day 4 – 15
2 Minivans for 12 – 18 persons
2 Minivans + 1 Truck for 19 - 20 persons
3 Minivans + 1 Truck for 21 – 24 persons
Transfer to Phuket Airport on Day 16
Accommodation in double/twin shared room as mentioned in the itinerary
Meals as mentioned in itinerary (15 = Breakfast, 13 = Lunch, 14 = Dinner)
Drinking water & snacks whilst cycling
Basic Accident Insurance
SpiceRoads give away packs (inc jersey, buff, water bottle).
GPS files of each riding day suitable for Garmin, RIDEWITHGPS or other formats as requested.
Fee Does Not Include:
All air tickets and airport taxes.
Airport transfer if outside of the start and end days (Must be arranged separately, prices available on request.)
Visa fees, but note there is no need for a Visa for U.S. or Canadian citizens entering Thailand for less than 30 days.
Bike, helmet and spares.  Price for rental bikes are $280 U.S. -  hybrid, $425 U.S. - road bike (aluminum), $550 U.S. - road bike (carbon), $590 U.S. - e-bike.
Meals other than mentioned in the itinerary.
Alcoholic Drinks.
Other beverages during meals.
Tips for guide, driver, boat crew & hotels porters.
Maps and navigation aids.
Travel insurance.
Any services non-mentioned in the itinerary
Tour Coordinator fees. (Tour Coordinators will pay the same price for this tour as all other tour members.)
Itinerary: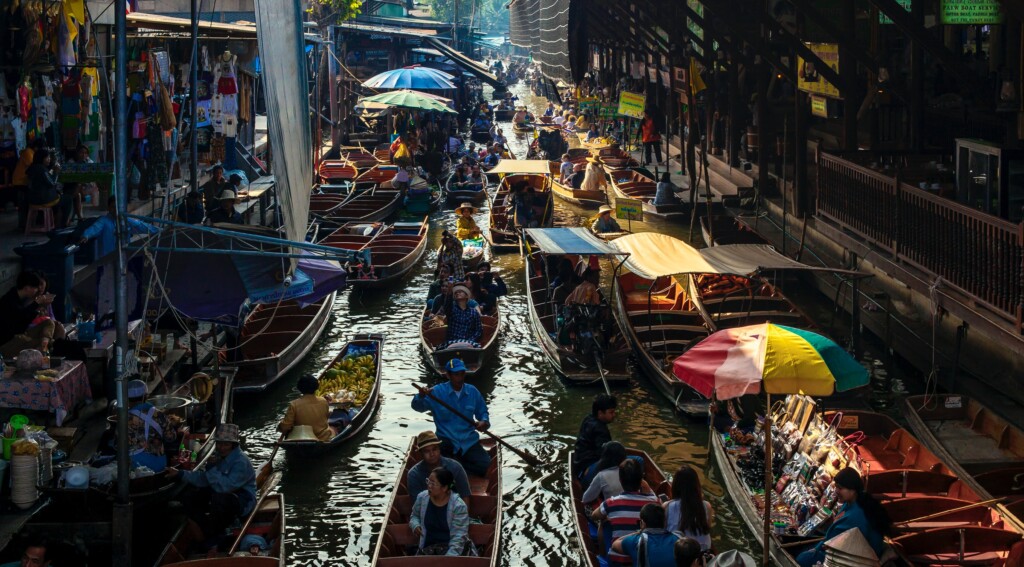 Day to Day Itinerary (prepared by Tour Contractor – Spice Roads):
B=Breakfast    L=Lunch    D =Dinner (covered by tour)
DAY 1 (Sun 8 Jan)    BANGKOK ARRIVAL
Meet up at 5.00 pm then have dinner and tour briefing at the Novotel Suvarnabhumi Hotel.
| | |
| --- | --- |
| Ride: | – km |
| Lodging: | Novotel Suvarnabhumi Airport Hotel (Superior Room) |
| Meals: | (-/-/D) |
DAY 2 (Mon 9 Jan)    BANGKOK – WARM-UP RIDE      
Today we'll spend the morning building our bikes up with the assistance of your guides and a mechanic.  At 7.30 am, we are all ready to go we'll head out for a spin on a nearby 23.5 km track, also known as the green loop, that circles the airport. It is a perfect way to make sure that all is working smoothly before we start our riding in earnest. Do as many loops as you like, as the afternoon and evening are on your own to relax and recover from jet lag. Enjoy the pool at the hotel, have a massage or take the airport link into the city.
| | |
| --- | --- |
| Ride: | 23.5 km or 14 miles |
| Lodging: | Novotel Suvarnabhumi Airport Hotel (Superior Room) |
| Meals: | (B/-/-) |
DAY 3 (Tue 10 Jan)   BANGKOK – PETCHABURI – HUA HIN 
We meet at the Novotel Suvarnabhumi Airport Hotel at 07.30 am before we transfer to start our ride in Petchaburi (approximately 2 hours). This ride is a gentle start to the trip as we head out of Petchaburi and into rural Thailand, along roads flanked by paddy fields and palm trees. We then ride along the beach into Cha-am and on to the beach resort town of Hua Hin. The town is closely tied to Thai royalty and the king currently resides at the summer palace located just outside town. The last 20 km is on the main road but there is a wide shoulder to ride on and if the traffic proves to be too heavy this section can be transferred. We'll top off our day with a seafood dinner on a pier in the centre of town.
| | |
| --- | --- |
| Ride: | 56 km/+192 m or 35 miles/+630 ft. |
| Lodging: | Putahracsa Resort (Silk and Room) |
| Meals: | (B/L/D) |
DAY 4 (Wed 11 Jan)  HUA HIN – KUI BURI
We leave our resort and ride around a reservoir and after some more flat country road, we'll challenge our legs with a short and steep climb up to a dam, a perfect place for a break. A canal road takes us to Pranburi and then on to Sam Roi Yot (300 hundred peaks) National Park. Spectacular limestone formations and freshwater marshes in between the peaks are the highlights of this park. Our next section is on the main road, about 20 km, before heading to the coast, passing many small villages on the way. The final section is along the beach to Kui Buri and our beach resort.
| | |
| --- | --- |
| Ride: | 82 km/+417 m or 51 miles/+1368 ft. |
| Lodging: | Dhevan Dara Beach Villa Resort (Studio Room) |
| Meals: | (B/L/D) |

DAY 5 (Thu 12 Jan)   KUI BURI - BAN KRUT
We are now well away from the main tourist areas and the roads are quiet and in good condition. Our route sticks to the coast today giving us views of the sea to the left and rugged mountains on our right. We are passing through Thailand's narrowest part as the border with Burma is less than 20 km away at some points. We will pass numerous bird condos, these are built to collect the nests of swiftlets for bird's nest soup. We end the ride at our beachside hotel in Ban Krut.      
| | |
| --- | --- |
| Ride: | 101 km/+445 m or 62 miles/+1460 ft. |
| Lodging: | Baan Grood Arcadia Resort (Standard Room) |
| Meals: | (B/L/D) |
DAY 6 (Fri 13 Jan)    BAN KRUT – KOH TALU     
This morning we cycle to the pier where we'll board a speed boat that will whisk us away to our private island, Koh Talu. The afternoon is free to snorkel and see the colorful coral and fish, kayak around the island, or clamber up to the viewpoint. Dinner tonight is at our resort on the island.
Ride:

32 km/+168 m or 19 miles/+551 ft.

Lodging:

Koh Talu Island Resort

(Manila Chalet at Big Bay and Home at Pearl Bay)

Meals:

(B/L/D)
DAY 7 (Sat 14 Jan)   KOH TALU - SAPLEE
There is time to go for one more snorkel before we take leave of our island oasis at 08.30 am and boat back to the mainland. Our bikes will be waiting for us and ready for us to ride. Our palm tree-lined route will take us past white-sand beaches on one side with a backdrop of green lush hills on the other.
| | |
| --- | --- |
| Ride: | 80 km/+619 m or 50 miles/+2031 ft. |
| Lodging: | Nana Beach (Standard Room) |
| Meals: | (B/L/D |
DAY 8 (Sun 15 Jan)   SAPLEE – ARUNOTHAI BEACH
A relatively flat ride today as we cycle through shrimp farms and along coconut palm plantations and mangrove forests. We'll also ride through numerous fishing villages with their colorful boats and in the distance, we'll see limestone islands in the China Sea. We'll stop for a break to see a shrine to the Prince of Chumphon, the founder of the modern navy in Thailand. Before reaching our hotel is on a 6 km-long beach. A 6 km-long beach takes us to our hotel which is a perfect jumping-off point to explore by boat some of the beautiful islands just offshore.
| | |
| --- | --- |
| Ride: | 95 km/+647 m or 59 miles/+2123 ft. |
| Lodging: | Tusita Wellness Resort (Run of House) |
| Meals: | (B/L/D) |
 DAY 9 (Mon 16 Jan)  ARUNOTHAI BEACH – LAEM THONG                                             BEACH     
Another day, another beach! We continue riding south and are now truly off the beaten track with endless sandy beaches empty of tourists. We are riding to Chaiya, one of the oldest cities of Thailand, dating back to the 5th to 13th centuries when it was a regional capital in the Srivijaya kingdom, based in Sumatra, Indonesia. Our accommodation tonight is a bit more rustic as it is where local Thais stay, making it an authentic experience. For those with energy in the evening, a squid fishing excursion can be arranged.
| | |
| --- | --- |
| Ride: | 110 km/+507 m or 68 miles/+1663 ft. |
| Lodging: | Laem Sai Resort (Run of House) |
| Meals: | (B/L/D) |

DAY 10 (Tue 17 Jan)  LEAM THONG BEACH – CHEOW LARN                                            LAKE
Today we head inland and trade the beach for the lush green jungle.  We'll pass rubber and coconut plantations and countless villages as we ride through the rural landscape. There will only be one short, steep climb to the top of Ratchaprapa Dam where we'll see the refreshing waters of Cheow Larn lake. Once we reach the pier around 03.00 pm we'll take a 30-minute boat ride to our rafts where we'll overnight on the lake. You can go for a swim directly from your raft set amidst karst cliffs.
| | |
| --- | --- |
| Ride: | 75 km/ 532 m or 46 miles/1745 ft. |
| Lodging: | Phu Pha Waree (Run of House) |
| Meals: | (B/L/D) |

DAY 11 (Wed 18 Jan) CHEOW LARN LAKE    - REST DAY                               
Today is a free day by the lake. Time chill out, relax and enjoy the pristine surroundings. You can swim, kayak, fish or just sit on the deck and read a book. Today is all about taking time and reflecting on the riding so far. There is no mobile signal so a day of a digital detox!
| | |
| --- | --- |
| Ride: | 0 |
| Lodging: | Phu Pha Waree (Run of House) |
| Meals: | (B/L/D) |
DAY 12 (Thu 19 Jan) CHEOW LARN LAKE – KHAO SOK
Today is a semi rest day. The morning is free to go for a kayak, another swim or just relax until 10.00 am.  We'll head out for our ride on the only road that undulates and winds through a series of magnificent limestone cliffs and green jungle along the edge of Khao Sok National Park. This park comprises the largest area of virgin forest in Southern Thailand and is home to 5% of the world's species.
| | |
| --- | --- |
| Ride: | 66 km/+633 m or 41 miles/+2077 ft. |
| Lodging: | Khao Sok River Lodge  (Run of House ) |
| Meals: | (B/L/D) |
DAY 13 (Fri 20 Jan)  KHAO SOK – KHAO LAK
This morning we'll ride along the edge of Khao Sok National Park to the outskirts of Takua Pa. Here we'll ride through the old town and see traditional wooden buildings intermixed with Portuguese colonial buildings. We'll stop en route to visit the Tsunami Victim Cemetery which memorialises the victims from 39 countries. We then take a quiet back road through small villages, shady rubber plantations and cross rivers as we cycle to the small waterfall of SaI Rung. There's a dipping pool at the base perfect for cooling off. Then it's a short 10 km more to our next beachside hotel.
| | |
| --- | --- |
| Ride: | 78 km/+640 m or 48 miles/+2100 ft. |
| Lodging: | The Haven Khaolak (Deluxe Room) |
| Meals: | (B/L/D) |
DAY 14 (Sat 21 Jan)  KHAO LAK - PHUKET
We ride on backroads, along canals, past palm and rubber plantations, shrimp farms and along the beach to the bridge that connects the island of Phuket with the mainland. We'll have to ride on the main highway for a stretch as there is no alternative and then we'll ride with views of the Andaman Sea with some tough hills thrown in just before we reach our resort.
| | |
| --- | --- |
| Ride: | 90 km/+616 m or 56 miles/+2021 ft. |
| Lodging: | Nai Yang Beach Resort (Oriental Wing Room) |
| Meals: | (B/L/D) |
DAY 15 (Sun 22 Jan) PHUKET LOOP
We'll go for a ride to see the resort island of Phuket. There will be plenty of hills as we ride through rubber tree plantations and along endless beaches on this island tour.
| | |
| --- | --- |
| Ride: | 65 km/+911 m or 40 miles/+2989 ft. |
| Lodging: | Nai Yang Beach Resort (Oriental Wing Room) |
| Meals: | (B/L/D) |
DAY 16 (Mon 23 Jan) PHUKET DEPARTURE  
Catch a flight from Phuket international airport or extend your stay and enjoy the sun and sands of Phuket!


| | |
| --- | --- |
| Ride: | – km |
| Meals: | (B/-/-) |
| Total Ride: | 992.5 km / 617 miles |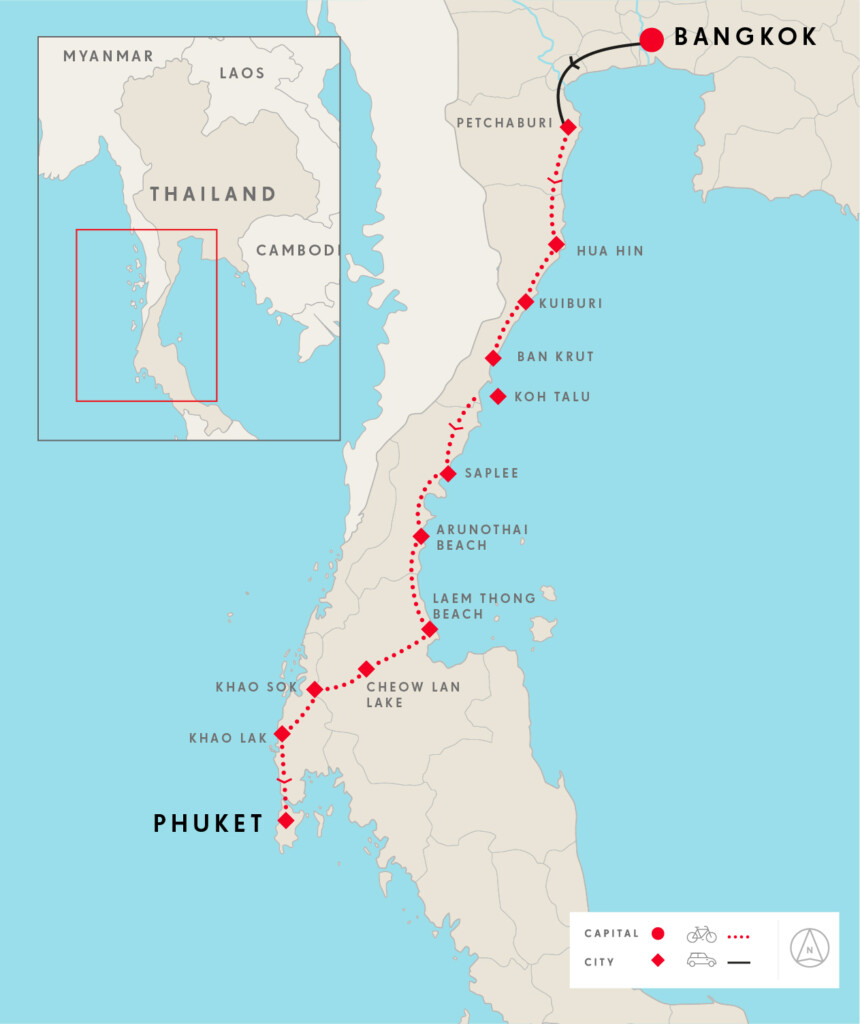 Registration and Participant Selection:
Registration will be on the CCCTS website on the date shown. A computerized lottery system and waitlist will be utilized in the event that the ride is over-subscribed. A $50 U.S. payment is required at the time of registration. The registration fee will not be refundable for any reason unless you are not selected for the tour, in which case it will be refunded. The lottery signup will run for 5 days, after which the Tour Coordinator will review the results.
The selection process will consider the following criteria in evaluating candidates:
fitness and riding ability and experience required for the tour,
a history of demonstrating safe riding practices,
acceptable social behavior.
The Tour Coordinator may interview riders or others who know them to verify their suitability for the tour.
The Tour Coordinator will notify registrants of their selection status. If the ride is not filled to capacity, registration will continue until the closing dates shown.
After you have been notified you are selected for the tour, the Tour Contractor Spice Road's payment and cancellation policies will apply as follows:
Spice Roads' Payment Policy
These payments will be made directly to Spice Roads. Details on how to do this will be provided once tour members are selected for the ride and before the deadline for the first payment.
30% Deposit is required by 120 days before departure.
Full payment is required by 45 days before departure.
International transfer fees or bank charges may not be deducted from the amount listed on your invoice. These fees are an additional charge that the transferor is responsible for paying.
Payment can be made by credit card using our online payment gateway or by bank transfer. Details will be provided if you are selected for the tour.
In all cases, tour fees need to be paid in full before participation in a tour. No person(s) will be allowed to join a tour without fully settling their invoice and receiving a confirmation number from Spice Roads.
The exception can be made for last-minute miscellaneous fees that can be paid locally (visas, additional local hotel bookings, etc.) can be settled on the day of arrival.
Spice Roads Cancellation Policy
Number of days before the trip start

Cancellation fee per person

90+ Days

Admin expenses*

60-89 Days

45-59 Days

Deposit paid to Spice Roads

50% of tour price

15-44 Days

70% of tour price

0-14 days

No refund
* Bank fees and any tour costs incurred by the company as a result of the cancellation.
(Examples of costs which may be deducted include non-refundable purchases of specific equipment and cancellation fees for accommodation or services)
COVID and Health Information:
COVID: CCCTS riding guidelines including applicable Covid guidelines will apply.  CCCTS requires all participants to be fully vaccinated, and proof may be requested by the Tour Coordinators and/or the Tour Contractor.

Border crossing requirements are subject to change but as of July 1, Thailand will only require prrof of vaccination and a visa can be obtained on arrival.  
Everyone should bring a COVID test kit(s) with them on the tour and take responsibility for self-testing if they feel ill.
Other Travel Health Requirements: You should check with your travel medicine health professional on whether they recommend any additional vaccinations or preparation for traveling to Thailand.
I M P O R T A N T  N O T E S FROM SPICE ROADS
Check-in is available from 14.00 on arrival day and Check-Out latest at 12.00 on departure day. Early check-in or late check-out is subject to availability and may be provided at additional cost.
Should one or some of the proposed service/s not be available at the time for booking, we will try to find other similar options to avoid changes to the program.
It is the travellers' responsibility to ensure to meet passport, visa, health and immigration requirements applicable to your itinerary.
SpiceRoads insists that all clients must take out good travel insurance before joining one of our tours. The insurance must include adequate coverage for any personal accident and medical expenses. You should also ensure that there are no exclusion clauses limiting protection for any dangerous or unusual activities that might be included in their tour.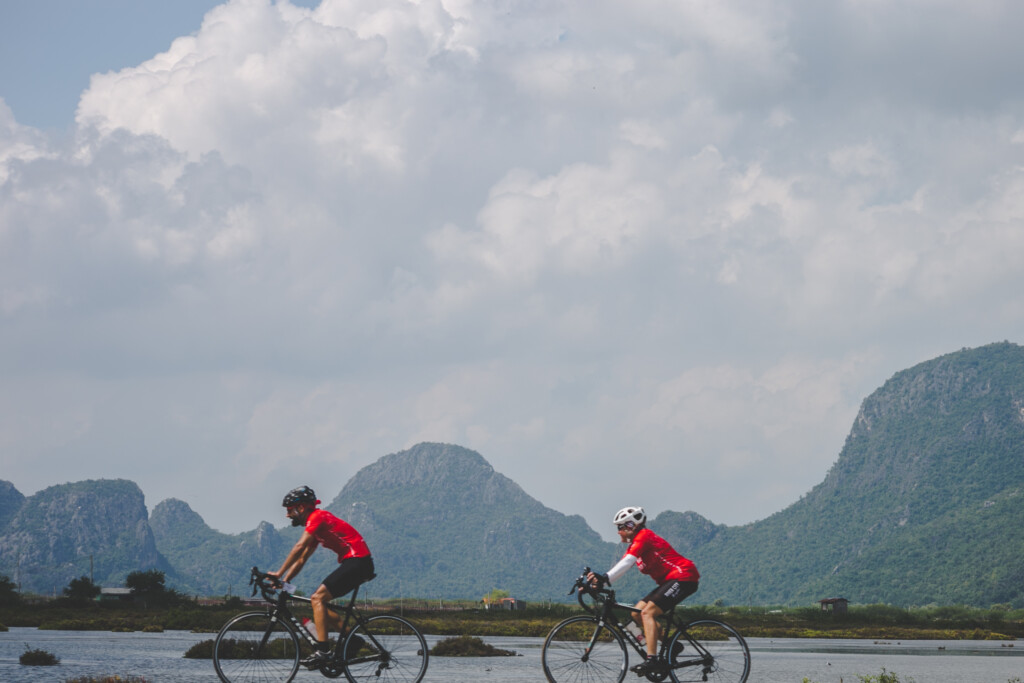 Participants
:
Daniel Carey, Carolyn Carlisle, Scott Carlisle, Donald Damron, Mary Davidson, Vivian Holford, Robin Howe, Debbie Kinnear, Paddy Kirk, Mardi Leslie, Gary McFarland, Janice McFarland, Carolyn Elaine Merritt, John Pringle, Patrick Rourke, Bob Scoverski