Leader: Holly Evans 604-983-3945
Co-leader: Ken Levine 505-884-9204
Trip Dates: Tue, 7 Jan 2020 -- Mon, 13 Jan 2020
Trip Classification: intermediate
Trip Fee: $50 USD Note that the fee for this trip is NOT in Canadian Dollars.
Trip Numbers: minimum 1 , maximum 24
Trip Registration Opens: Tue, 3 Sep 2019 5:00 PM (pacific time)
Registration Lottery Ends: Tue, 10 Sep 2019 5:00 PM (pacific time)
Trip Registration Closes: Fri, 6 Dec 2019 5:00 PM (pacific time)
Ride Description: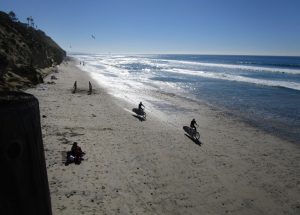 This 7-day hub and spoke is centred in the Southern California City of Oceanside, approximately 35 miles north of San Diego. Oceanside offers many bike routes north (into Orange County), east, and south (San Diego County). We will explore all these directions. We will do out and back rides, loops, and 1-ways using public transportation (commuter trains/light rail). Seniors can purchase inexpensive ½ price tickets. We will split into 2 groups each day to facilitate better group control and sometimes to accommodate public transit.  Rides will include coffee and lunch stops. You can buy or bring your lunch.
 The nearest airport is located in San Diego (SAN).  Public transit is available (bus/train) to Oceanside Transit Center, about a 1 mile walk or cab ride from the suggested hotel. Another option is to rent a car at the San Diego airport and keep it for the week. 
Bring US currency. While train tickets are purchased from a machine with a debit card, credit card, or cash, we sometimes found ticket machines only accept cash so bring some.
San Diego County and Orange County Public transit do not allow tandems, recumbents, or trikes on its buses, trains, or light rail. If you use one of these bicycle types, you won't be able to do the full length of most planned rides or take public transit from or back to Oceanside. Leaders can offer suggestions if you have your own vehicle. 
A limited number of bike rentals are available in Oceanside from Allan's Bike Shop on Pacific Coast Highway. You can Google options for other rental stores.
If a participant has an annual or senior US Park Pass, we ask him/her to bring it.
The California Visitor Center which offers free Oceanside and San Diego County bike maps, lists of attractions and restaurants, etc. is within 2 blocks of the hotel. 
Accommodation Reservations:
The Best Western Plus Oceanside Palms is within blocks of the beach, harbour, and downtown Oceanside. All rooms have a microwave, coffee maker and fridge.  This hotel has free parking, wi-fi, pool and barbecue area. The price includes a hot breakfast each morning. A block of 10 rooms has been reserved for the 6 nights. A minimum of 10 rooms must be booked to honour the contract cost for 6 nights of $92 USD plus tax/night for a standard king room with 1 bed and $99 USD plus tax/night for a standard queen room with 2 beds, 7-day cancellation policy. This rate is in effect until December 6, 2019.  A link to book rooms will be provided to participants once registration is completed. If the minimum of 10 rooms is not booked, the current online rate for 6 nights ranges from $96 USD plus tax/night to $134 USD plus tax/night for a standard king room, depending on cancellation options (as at July 22, 2019, subject to change). Tax rate is 12.7%.
Riding Conditions:
Daily mileage will be between 50 and 75 km.  Most routes offer paved multi-use trails or good on-road shoulders. Riding along the Pacific Coast Highway (North and South) and in San Diego can be very busy with vehicles and other cyclists. Leaders will offer a "slower" pace but participants must be able to do hills.
Fee Includes:
Tour fee includes cue sheets/maps and social hour snacks.
Surplus funds will be refunded to participants.
Fee Does Not Include:
Accommodations, meals, train/ferry fares, bike rental, airfare, and 1 US Park Admission unless we have enough Senior and annual US Park Passes.
Itinerary:
Tuesday, January 7, 2:00 – 6:00
2 pm:  A 25km (flat) ride around Oceanside will be offered for those who wish to participate.
5 pm:  Registration and signup for rides. Refreshments will be served and cue sheets/maps will be distributed.
Wednesday, January 8 – Sunday, January 12
A choice of 2 rides will be offered each day, ranging from 50-75km. Most rides begin at 9 am.
A tentative list of the daily rides with approximate mileages to be offered:
Oceanside to Carlsbad, Encinitas, Solana Beach, Del Mar, Downtown San Diego (1 major hill 2.5K @ 5% grade at Torrey Pines) - 75km + commuter train back to Oceanside.
Downtown San Diego to Coronado Island, Mexico Border (mainly flat) - 70km with train to San Diego and back to Oceanside.
Oceanside to Bonsall, (level to rolling with hilly section from Bonsall to Oceanside) - 60km + option for hillier/more scenic route.
Irvine, Lake Forest, Laguna Nigel, Dana Point, San Clemente (rolling hills San Clemente) - 45km + train to Irvine and back from San Clemente.
San Clemente, Dana Harbor, San Juan Capistrano (rolling hills San Clemente) - 40km + train to and from San Clemente.
Oceanside, Carlsbad, San Marcos, Escondido (gradual climb) 60km + light rail or option to ride back to Oceanside.
Old Town San Diego, Ocean Beach, Point Loma, Cabrillo National Monument (hill), Downtown San Diego - 50km + train to and from San Diego.
Monday, January 13
The Hub and Spoke will end early afternoon after a morning ride.
Registration and Participant Selection:
Registration will be on the CCCTS website on the date shown. A computerized lottery system and waitlist will be utilized in the event that the ride is over-subscribed. A $50 USD payment is required at the time of registration. The lottery signup will run for 8 days, after which time the leaders will review the results.
The selection process will consider the following criteria in evaluating candidates:
fitness and riding ability and experience required for the tour,
a history of demonstrating safe riding practices,
acceptable social behavior.
The leader may interview riders or others who know them to verify their suitability for the tour.
The leader will notify registrants of their selection status. If the ride is not filled to capacity, registration will continue until the closing dates shown. Payments are considered non-refundable in the event of cancellation, unless replacement persons are found.
Participants
:
Jeannie Bates, Daniel Carey, Brian Collier, Dianne Collier, Wilf Craats, Bonita Douglas, Bill Eberlein, Charlotte Eberlein, Holly Evans, Delores Franz Los, Robin Howe, Jane Kelliher, James Kennedy, Berni Koppe, Helen Koziol, Ken Levine, Barry Nelin, Alexandra Phillion, Bernard Phillion, Lani Schultz, Suzanne Stack, Beverly Wagner, Larry Wilson, Trish Wilson