The Cross Canada Cycle Tour Society       November2022,  Volume 39, Issue #10
From the Tour Director's Desk – November 2022

Sunshine Coast Group 2 – Group photo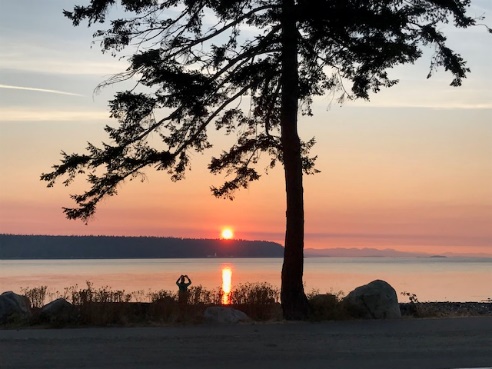 Sunshine Coast Group 2 – Scenery along the way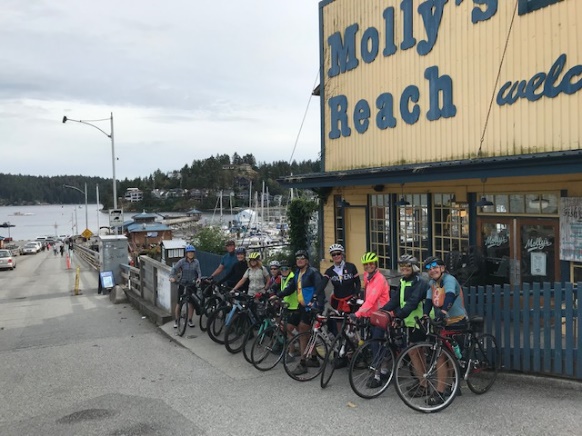 Sunshine Coast Group 2 – Waiting at Molly's Reach in Gibsons
We have come to the end of our 2022 tour season, which was our first tour year after the worst of the pandemic. CCCTS offered 7 tours in total and there were 115 spots filled by cyclists, though some members did go on more than one tour.
Now we turn our sights to 2023. By the time you read this, the lottery registration will have completed for the June Okanagan tour. As of the day this was written and after the lottery had only run for one day, the tour was already over-subscribed! A super popular tour. The lottery registration will also be underway for our first pilot test CCCTS cross-country ski tour so we will just have to see if enough people register for that one to be a "go" or not. Tour postings for the Arizona, Portugal, and Croatia tours should be ready soon.
Details for each tour will be posted when tour proposals and budgets are finalized and have been approved by the Board. Watch your CCCTS emails and the website since tours will be posted one at a time as they are ready. Tour plans are always changing. As of today, here is the best information that I have on the tours that will be offered in 2023:
Thailand – Bangkok to Phuket (January 8 thru 23)
X-C Ski in Leavenworth and the Methow Valley, Washington State (February 15 thru 24)
Arizona (March 22 thru 31)
Mallorca (March 24 thru April 4)
Portugal (last two weeks of April)
Okanagan (June 3-12)
Washington State tour – TBD location (Late spring or summer)
Croatia (September 18 thru October 4)
PEI and Isle de Madelaine (September)
Japan – Kyoto and Noto Peninsula (last two weeks of September)
I hope there will be several more tours coming for 2023, especially tours closer to home for many of our members. If you will volunteer to lead them, we will run them. Please give me a call or send an email if there is a tour you would like to lead. We are open to any tour idea you have as long as it is a safe place for travel. (robincooksandsews@gmail.com, 206.899.7255)
Take care and happy cycling,
Robin Howe, CCCTS Tour Director
Hub and Spokes
No new Hub and Spokes at this time.  
Marketplace Buy and Sell
3 Bikes for sale.  Owner is moving and new place doesn't have enough storage.
Bike #1
Kono Sutra Touring Gravel Bike – selling in Courtenay B.C.
Size: 60 cm
Like new: ridden on 2 three week bike tours
27 speed: Tiagra rear derailleur. Deore front derailleur
Shimano bar end shifters
Avia disk brakes
Mavic disk wheels
Comes with rear rack and clipless pedals
$1400 or best offer.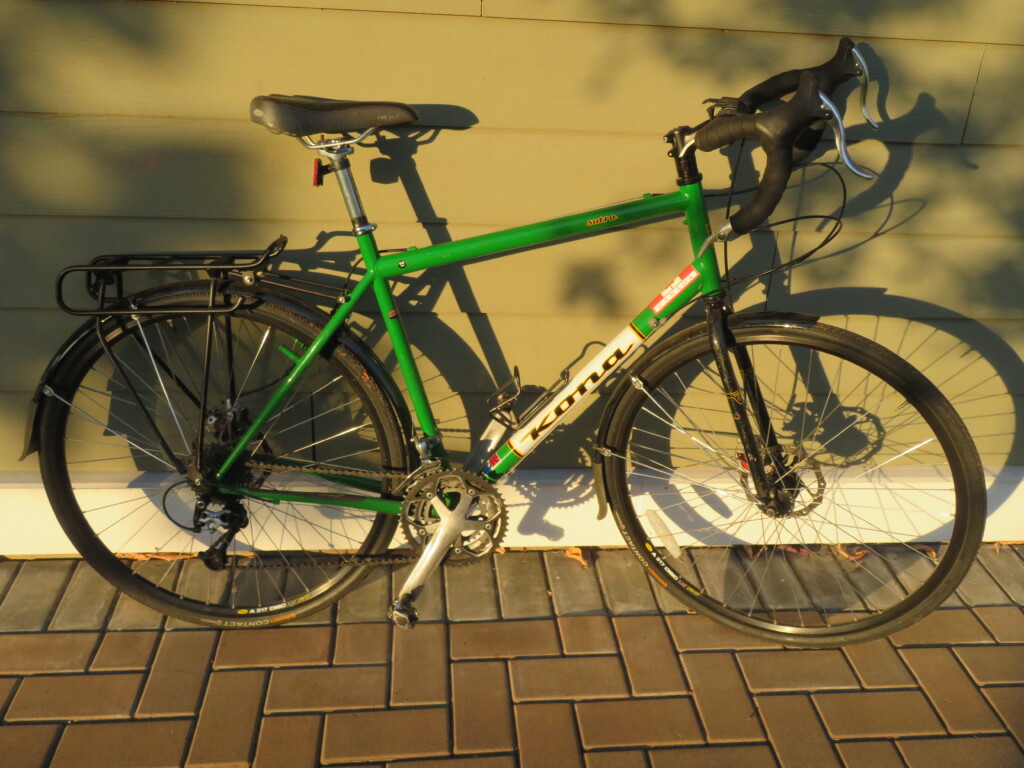 Bike #2
Specialized Tarmac Expert Race bike – selling in Courtenay, B.C.
Size: 57 cm (I think)
Carbon fibre
2 x 10 gearing
Ultegra components throughout
Used for racing in Senior Games a number of years.
$900 or best offer.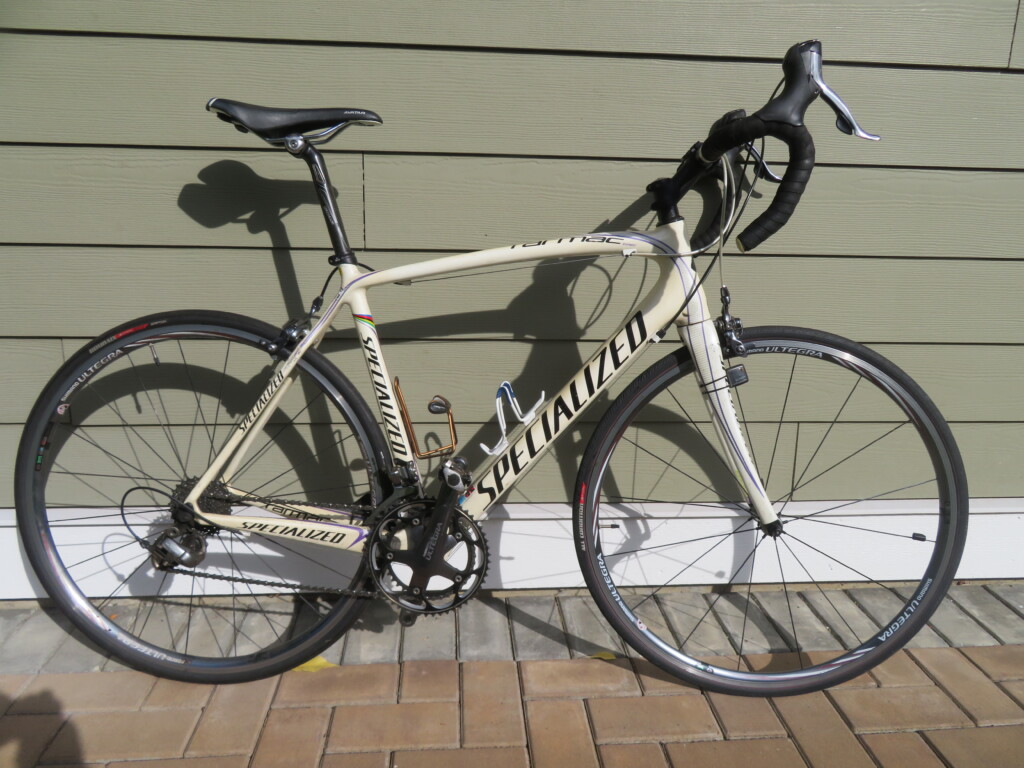 Bike #3
Specialized Sequoia Comp Touring Bike – selling in Courtenay, B.C.
Used often on CCCTs rides and a few tours
Size: 57 cm
Aluminum frame
2 x 9 gearing: Ultegra front derailleur. Deore rear derailleur
Ultregra brakes (non- disk)
Comes with rear rack, fenders, clipless pedals, and extra brakes on handlebar.  Will need a new seat
$700 or best offer.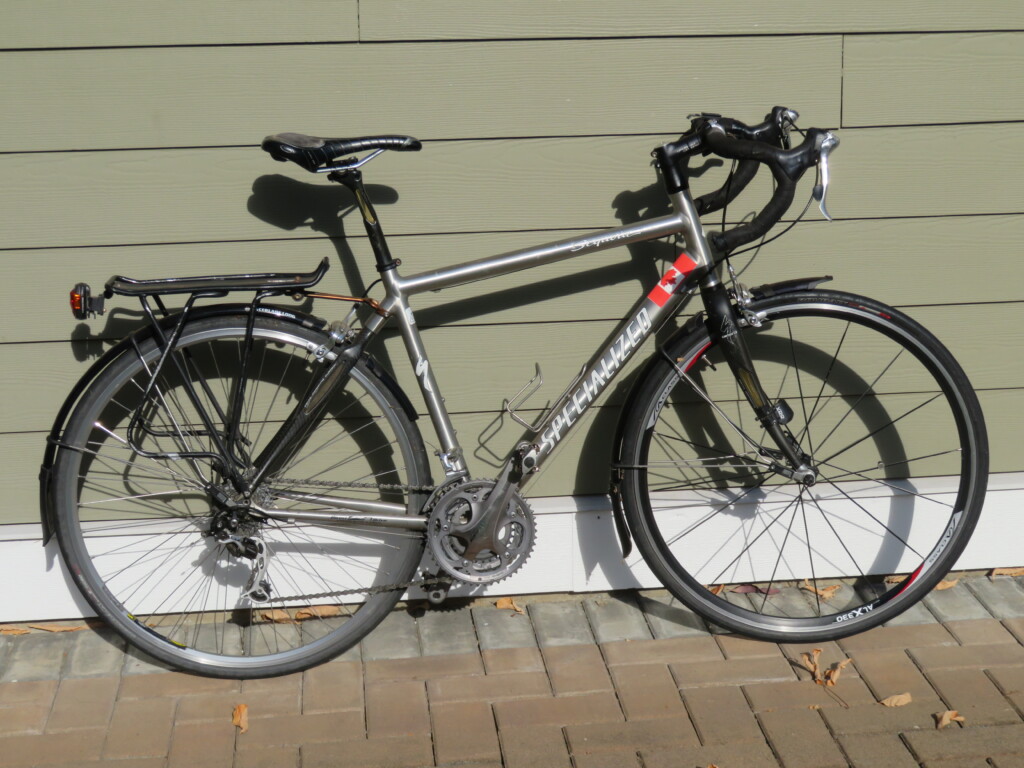 Comox area
Ladies 2016 Trek carbon Silque S   road bike    47cm.
All tuned and like new again with new shifter cables, brake cables, cassette and chain etc.
Asking $1,950 .
Bev Alden 
Text Or call 604-968-0030
Lightweight men's cycling jersey.
celebrating Canada's 150th birthday. Only worn once or twice. Fits size XL $20.
in the Comox area.
INDOOR CYCLE TRAINER
Cycle Ops
great for keeping in shape in winter months
includes 2 risers to simulate hill climbing
Folds for easy storage
$50.00
Contact: Bonita Douglas  Text: 250-215-5310
Email: bondoutoo@gmail.com
In the Victoria Area.
Thule Bike rack and kayak holder
$450 Thule Bike rack and kayak holder that will fit Honda Fit and Jazz models from 2008-2014. I checked this detail with Rack Attack Ottawa. Includes key lock. $100 – Thule Peleton bike rail also with lock that will also fit the Thule rack.
Contact: Trice Cameron in the Ottawa Area
Let's Go Biking
The three Let's Go Biking books are a collection of easy and fun routes to ride, walk and run in Vancouver, the Okanagan/Shuswap, Vancouver Island, the Gulf Islands and Sunshine Coast.  Author Colleen MacDonald worked with many locals and cycling groups 
(including CCCTS members!)
 to find the easiest rider-friendly rides.  A great gift for anyone looking to explore by bike or on foot.  Available as a print book or ebook at 
https://www.letsgobiking.net/book/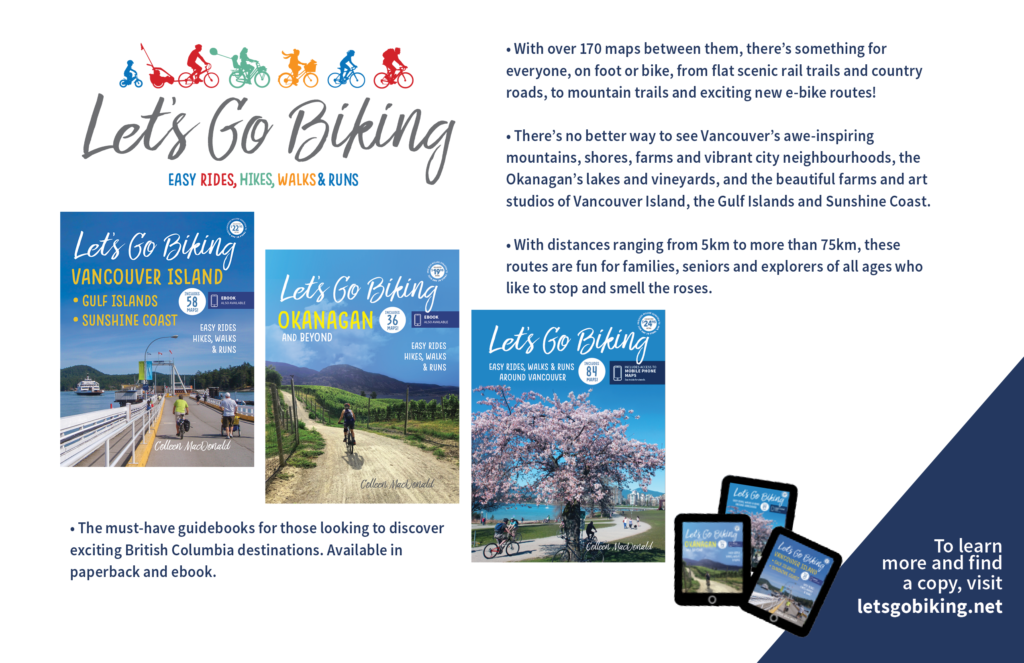 Published at least ten times a year by The Cross Canada Cycle Tour Society, a non – profit organization for retired people and others who enjoy recreational cycling. 
Items for the NEWSBRIEF must be received by the 28th of the month. The Editor reserves the right to edit for clarity, brevity and suitability of publication. The views expressed in the "NEWSBRIEF" are not necessarily those of the CCCTS or the Editor.
Submissions for NEWSBRIEF should be emailed to alaird212@gmail.com