The Cross Canada Cycle Tour Society        January 2021,  Volume 38, Issue #1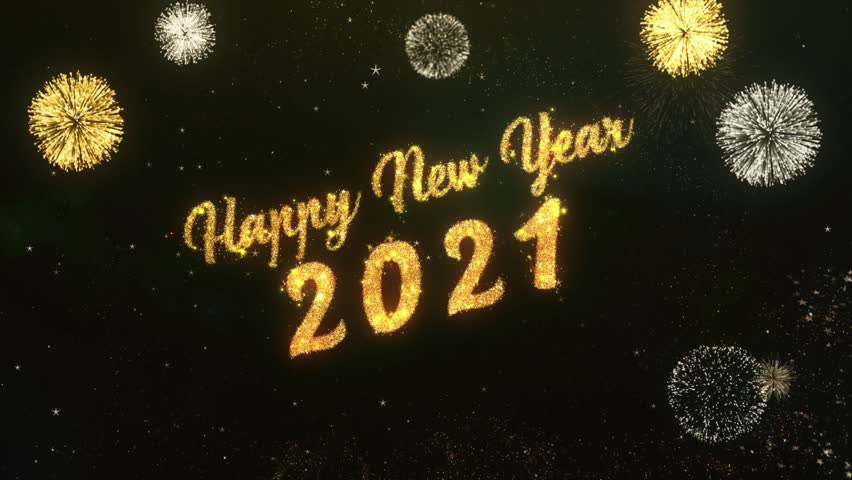 Remembering Dan McGuire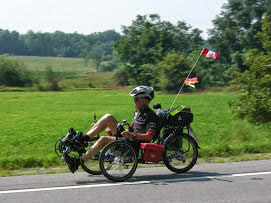 Long term CCCTS member Dan McGuire passed away on December 12 from Covid19 infection. Although difficult to briefly summarize the character and contributions of one so iconic in the CCCTS's history, he and his legacy will be long remembered.
Here in brief is his cycling career.
A serious cyclist since the 1970's, Dan joined CCCTS in 1996, was a Director for 13 years between 1999 and 2011, Tour Director 2000/2003, Vice President 2000/2, 2006/7 and Membership Director 2009-10. He completed 60 club tours and led eight, and at least twice that number counting personal tours and ones with other groups. He successfully completed the grueling Paris-Brest-Paris ride three times as a Randonneur.   For those unfamiliar, this 1,200 km ride must be completed within 90 hours. Participants need to cycle all night, grabbing brief snoozes in haystacks along the way. That's 320 kms a day (two imperial Century rides!) for each of 3.75 days. Here's another milestone: he cycled across Canada twice. His last was an epic, solo, 10,000 km, Four-Corners of Canada ride in 2013-14 while suffering from Parkinson's and with a speech impediment and more serious debilitating ailments. But his mind was always tack-sharp. Another solo tour is worth mentioning for its novelty; when Dan was required to attend business meetings in Denver, his suit would fly to Denver while he and his bike would fly to Salt Lake City, some 520 road miles to the west. Brilliant!
Dan was one of the most generous, gentlest and kindest men I have known. Always ready to help but never to claim the spotlight. Looking at my tour group photos, Dan stands modestly at the back or off to the side. A man of few words, he cycled with a constant smile, uncomplaining, always imaginative, thoughtful and very determined. Dan was always happiest in the saddle, where he appeared at least ten years younger. And he rarely said "no" to joining a tour.
Here's a very few of my own memories of Dan on rides we shared. I first met Dan in 2003 on the Swartz Bay ferry for the opening day of a Victoria Hub & Spoke. Neither of us had
enough time for the entire event, so came back to the mainland together that evening. As Tour Director Dan queried me on my travel experience and suggested I might like to run a tour of Chile and Argentina. My bare-bones proposal was approved by the Board and it was
oversubscribed a month later after a verbal presentation at Gladys Schmidt's H&S in Comox. I didn't have much of a clue how these things were done nor even had a route plan at that time. My point here is that a) Dan was very supportive but never interfering, and b) the Board obviously had full confidence in Dan's judgement. Things were simpler then. It was a fun tour and worked out well, in spite of a few tense moments. Dan was always there, unflappably rock-steady.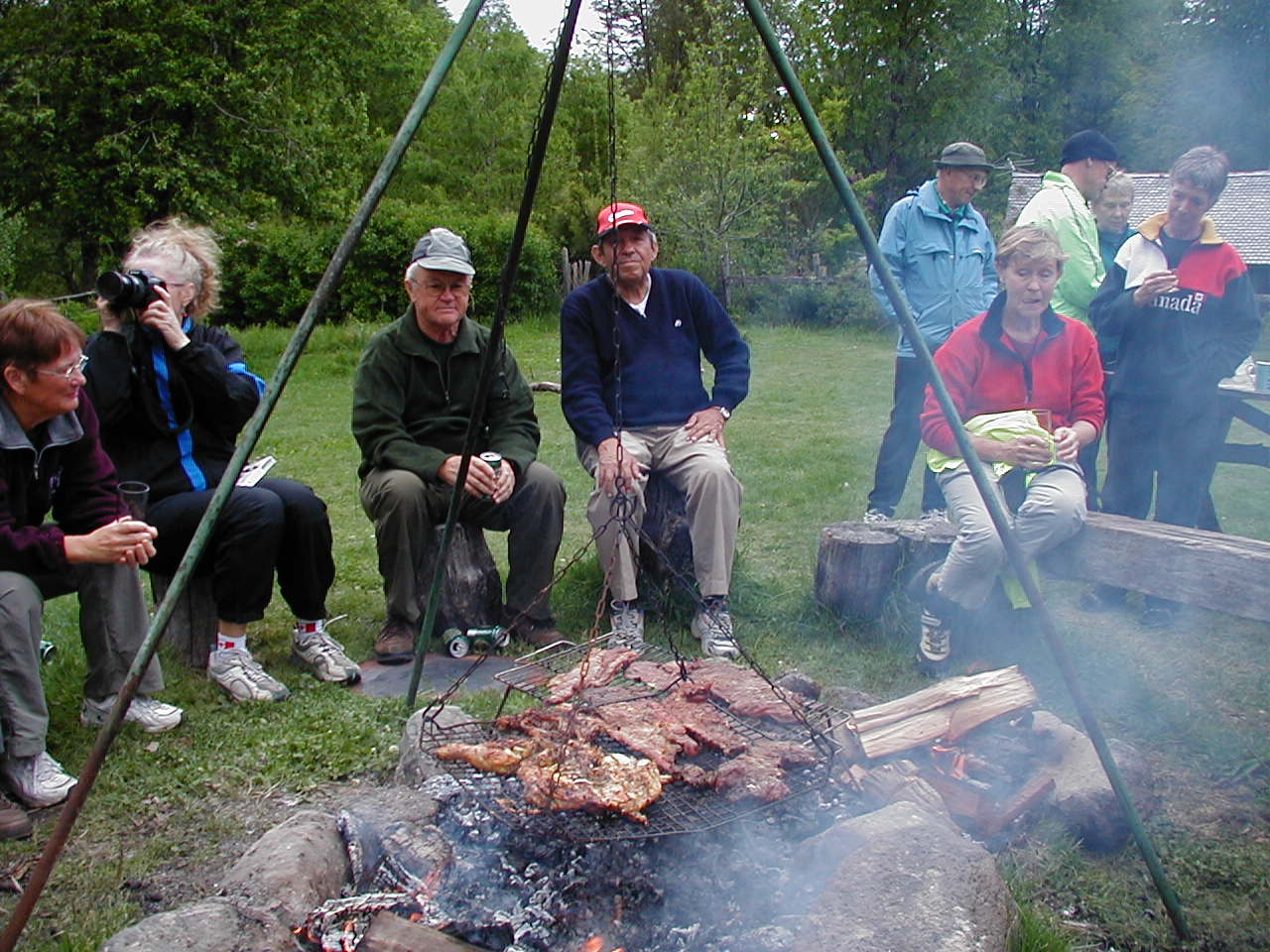 Watching our steaks singe, near Pucon, Chile, 2003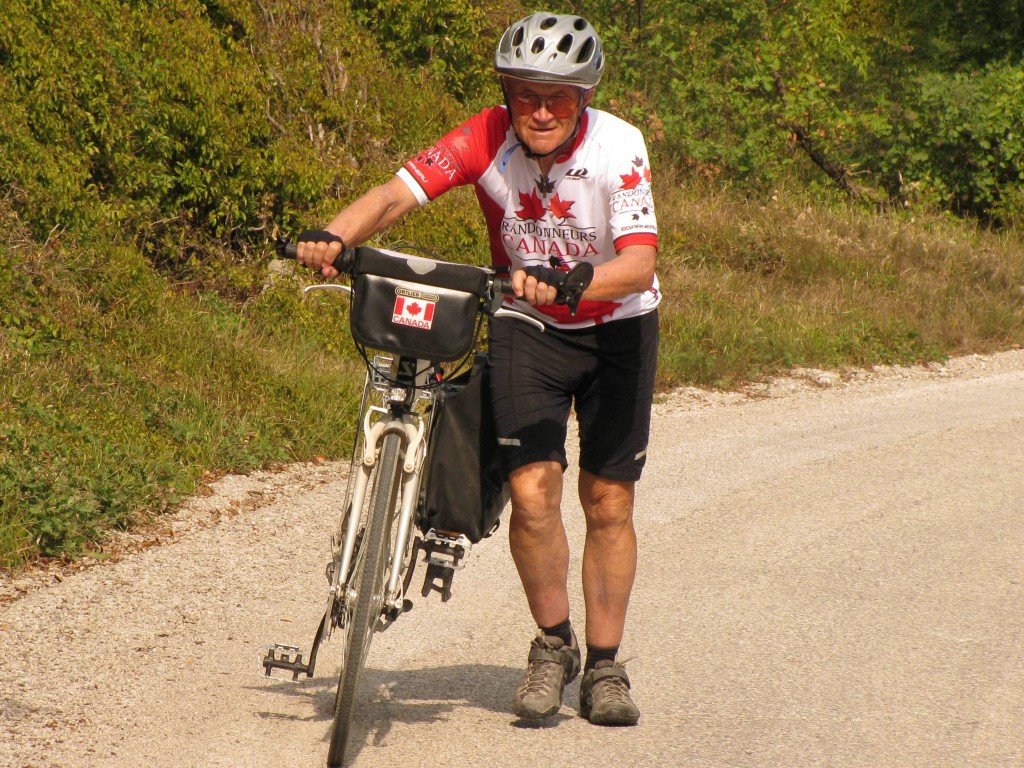 Pushing up a very steep slope (and grinning) in Croatia, 2012
In 2005, Jake Tremblay ran a very popular Kootenay Hot Spring tour. My best Dan memory was an early morning at Canyon Hot Springs. Dan was tented about 30 feet from me. I hear
his tent flap zip open and a hand emerges with a rolled up something. A door mat is unfurled, placed just so, and the hand retreats. Then a cycle shoe emerges, placed on the mat and the hand disappears once more. The hand re-emerges with the second shoe, placed precisely beside the first. Hilarious! But quintessential Dan: unhurried precision in thought and action.
Fast forward to 2010 and Eric O'Higgins' New Zealand tour. Dan was not on this tour but was cycling alone from Christchurch to Auckland. Fortuitously, without cell phone contact, he and I met at a roadside layover near Rotorua. We made room for him in our dormitory and took him to the Maori show and dinner that evening. Already showing early signs of Parkinson's and having suffered a couple of falls, he headed off solo the next day.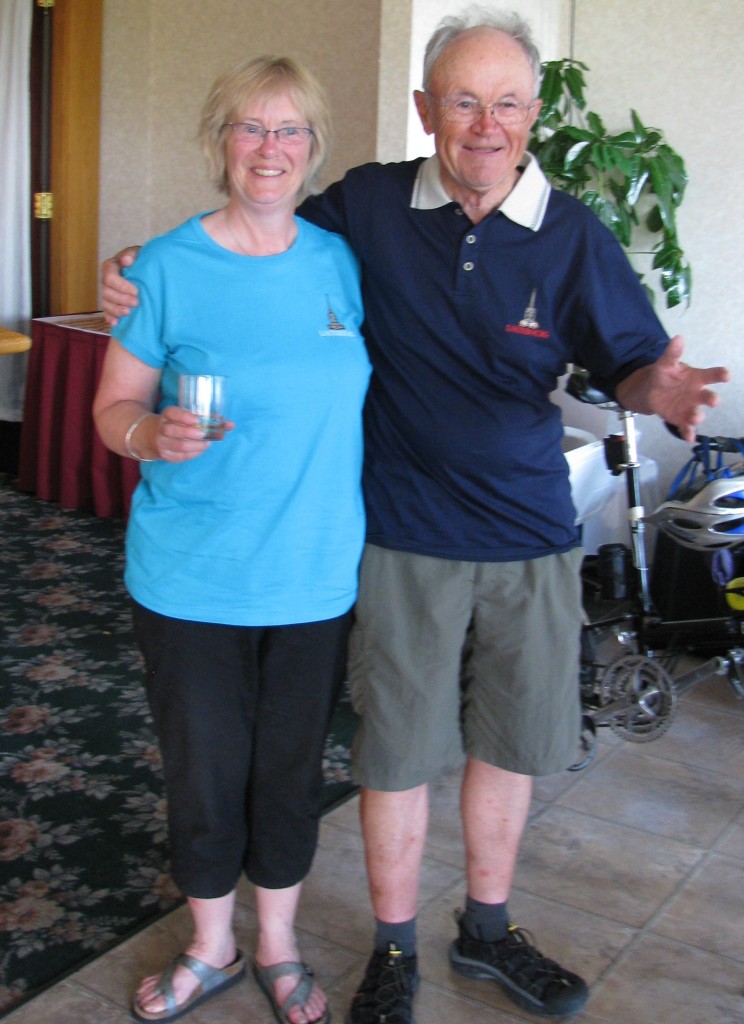 Jill Weldon & Dan, Sydney, NS, 2011.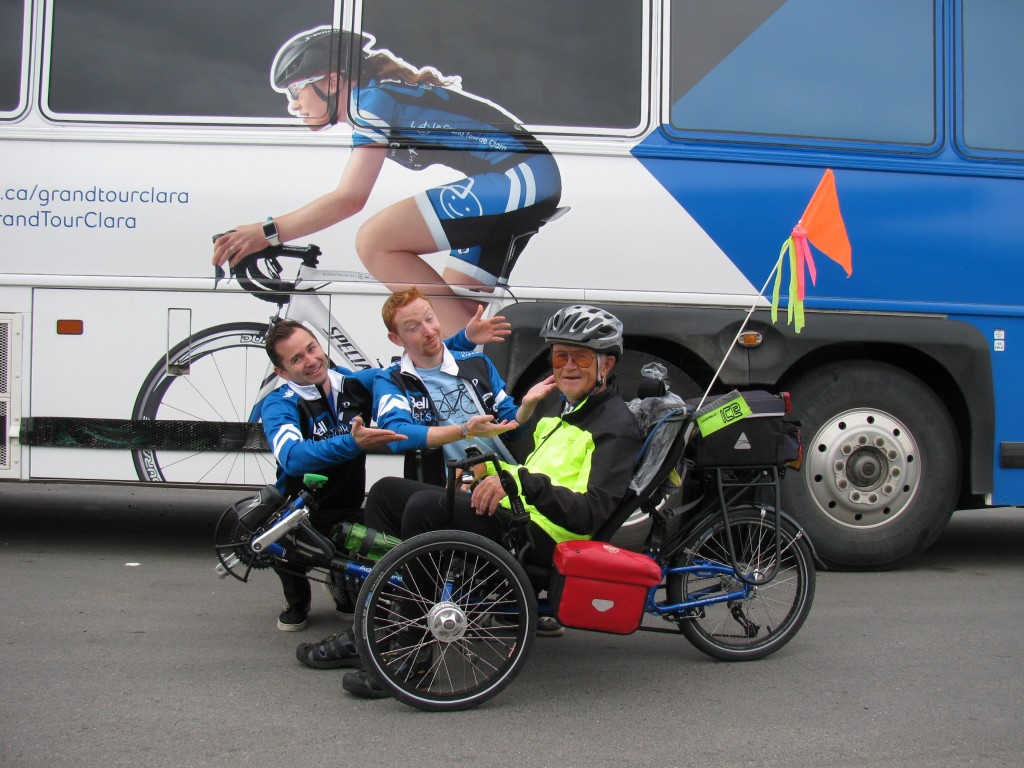 Met by Clara Hughes' coaches, Terrace, Ontario, 2014
In 2011 he teamed up with Jill Weldon to organize the Maritime Culture Tour, one of my most enjoyable CCCTS tours. His communication skills were ebbing. In spite of preparing perfect route and tour maps, he was largely a silent partner.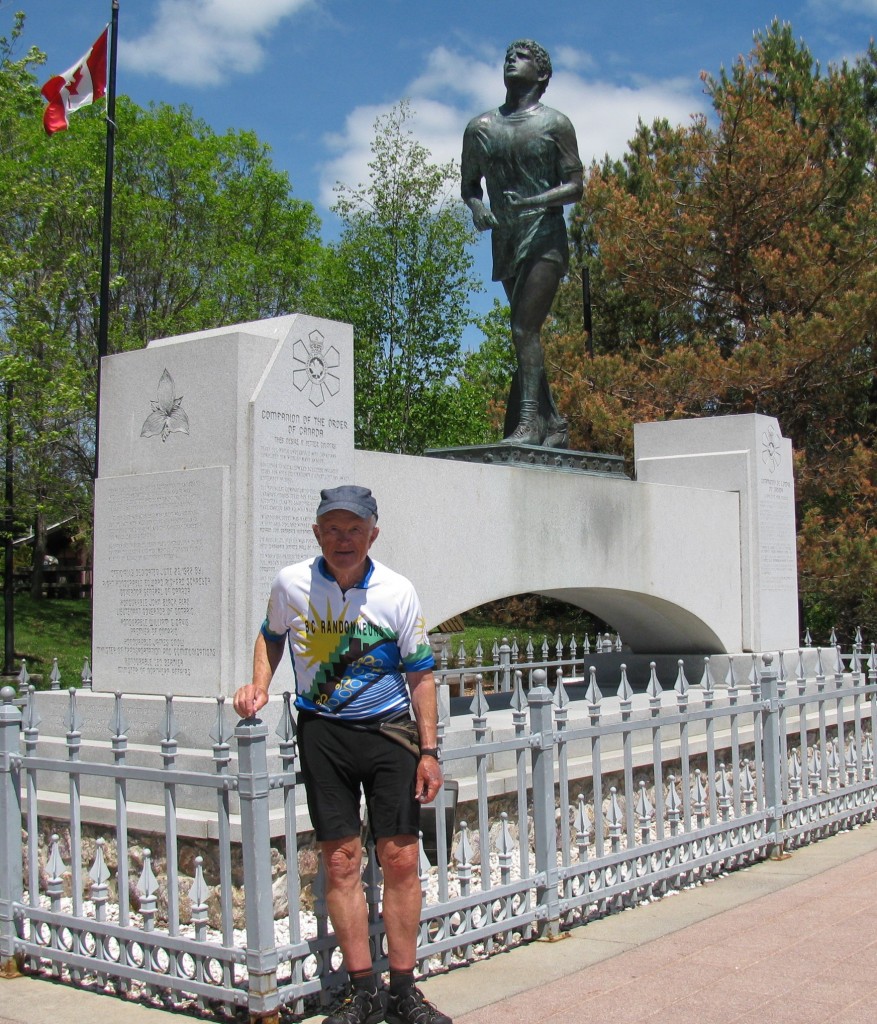 At the Terry Fox memorial, Thunder Bay, Ont,, 2014.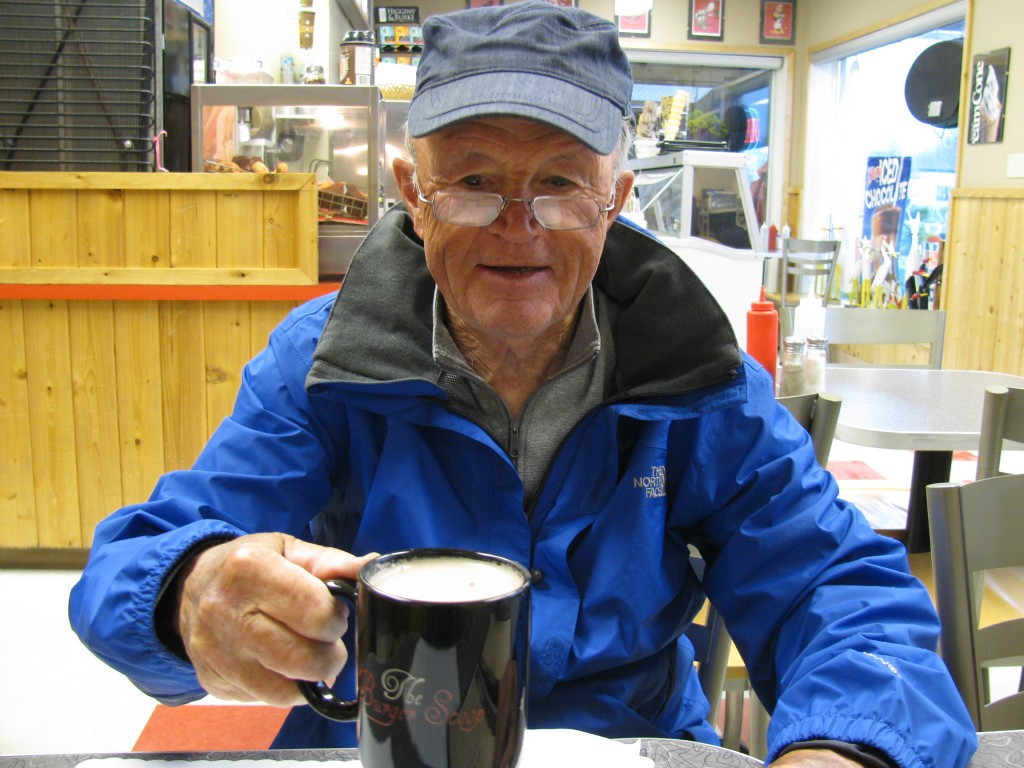 A true Irishman never turns down a good pint (or was it hot chocolate?)
Fast forward to 2014, the second year of his Four Corners of Canada tour. He drove from Vancouver to Portage la Prairie at the start of this leg. As his support driver around Lake Superior, we met up at a Kenora laundromat after he'd been cycling solo for two weeks on
his three-wheeled recumbent. The highlights of this second leg were meeting up with
Olympic medal-winning cyclist and speed skater Clara Hughes in Terrace, Ontario on her mental health ride across Canada. She was mightily impressed; his amazing swoop onto the departing ferry at Pelee Island after the captain had held it 15 minutes for his expected arrival, with a huge ovation from all on board; his well-attended arrival with many Parkinson's supporters at Cape Spear, Nfld; and the completion in late September of his mud, sweat and tears ride from Dawson City to Inuvik after being thwarted twice before by floods. As Dan would say, EFI.
A memorial service will be held on January Jan 23, 2021, 3:00 PM US/Pacific time. The
Zoom link for the service is:
https://www. gatheringus.com/memorial/daniel-james-mc-guire/6114
His daughter Tara McGuire wrote a piece for CBC that was released this December 16. Tara
also sent a piece to CBC in 2015 that became a full program on Stuart McLean's Vinyl Café. The link to the Dec 16 piece is:
https://www.cbc.ca/news/canada/british-columbia/dan-mcguire-covid-19-bc-1.5842844
Chris Hodgson and June Gallagher
A message from Rick Borejsza our erstwhile Insurance expert.
Hello all fellow CCCTS club members.

The following is an update of the Clubs Liability Insurance coverage resulting from inquiries made at our recent AGM.

Please note that our Liability Insurance coverage now extends to Hiking, Canoeing and Kayaking.
These activities must be done as , or in conjunction with a sanctioned CCCTS event, and is extended to CCCTS members only. Non-members cannot be insured.

Some things to keep in mind, as necessary:-
HIKING: 1) Ensure one or more members of the group carries a communication device.
                 2) Ensure group leaders or participants are experienced with the hiking
                      location.
CANOEING/KAYAKING: 1) All participants MUST  wear personal floatation devices
                                                      when engaging in this activity.
                                                 2) Insurance does not cover activities in open water/ocean
                                                      or rapids locations.

The insurance company is noting this on our file and is being provided at no additional cost to the club,  neither for the balance of current policy term nor at renewal in 2021.

I trust this is satisfactory to you all.

Thank you.

Rick Borejsza
Videos
Tours and Hub and Spokes
No new tours or hub and spokes published yet but we are working on it.  Stay tuned.
New Members
| first_name | last_name | city | province |
| --- | --- | --- | --- |
| Donald Robert | Trenholm | Kanata | ON |
Published at least ten times a year by The Cross Canada Cycle Tour Society, a non – profit organization for retired people and others who enjoy recreational cycling. 
Items for the NEWSBRIEF must be received by the 28th of the month. The Editor reserves the right to edit for clarity, brevity and suitability of publication. The views expressed in the "NEWSBRIEF" are not necessarily those of the CCCTS or the Editor.
Submissions for NEWSBRIEF should be emailed to alaird212@gmail.com