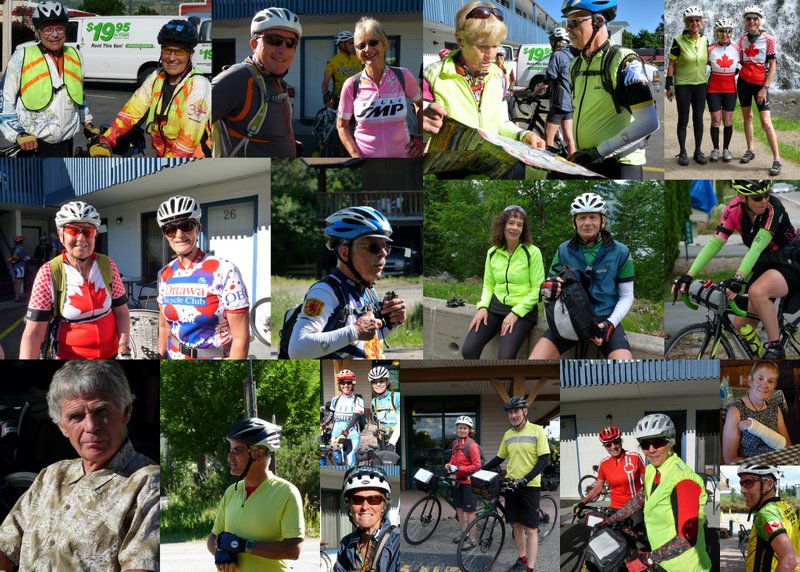 From June 13 – 26,a group of retired professionals – teachers, school administrators, nurses, engineers, a paramedic, an airline pilot, an accountant, a periodentist (and no doubt some that I have missed) bonded together as one as we donned our bicycle helmets and tackled the hills and descents of the 2017 CCCTS BC Lakes and Mountains Tour.
Competently led by Doug McIntyre and Brigitte Relling, who had led this same tour together in September 2015, (see report giving day to day routes, distances and elevations under tour reports on the website) we were briefed at happy hour each evening as to what to expect on the following day, including the hotspot coffee shops with baked goods and the not-to-be-missed ice cream parlours.
We were blessed with wonderful weather for all 11 riding days.  My rain gear and merino wool shirt stayed neatly packed in plastic at the bottom of my bag and it was not until the last three days of the tour that temperatures moved up into the low to mid 30's.  Early starts and opportunities for lake swims or paddles – Christina and Osoyoos lakes – for those who chose to do so, made, however, for quite manageable riding.
Riding this route in June offered a landscape of glorious greens and colourful road edges alive with wild flowers- multicoloured lupins, white daisies, yellow buttercups, dandelions and pink roses.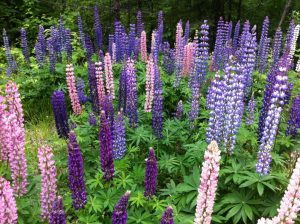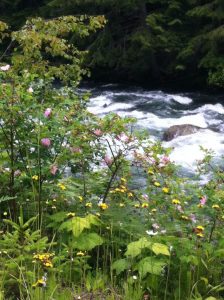 Quieter roads had been sought out where possible and on many days we could hear the wonderful sound of cascading waterfalls and rushing rivers.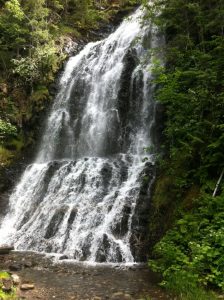 We were pleasantly surprised that the traffic on the unavoidable stretch of number one highway between Sicamous and Revelstoke was not as heavy as anticipated, perhaps in part due to the fact that we rode it on a Sunday and in part due to construction on the highway holding the traffic back in a favourable way. Construction also aided us on the long descent from the Paulson Summit into Grand Forks.   The long climb up to the summit was conquered by all (save for the appointed driver for the day and dear Jo Jo who unfortunately broke her wrist in a freak tumble that morning).  A great feeling of accomplishment for everyone.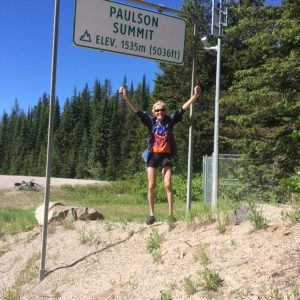 Riders came from various BC communities.  We also had the pleasure of welcoming one CCCTS member, Barbara Wilson, from the Ottawa area who combined participating in the tour with a visit in Penticton with her son and grandchild and one rider, Gloria Nafel from California.  Group meals in Nelson and at the conclusion of the tour in Oliver added to the natural camaraderie of the group. Have you ever seen quite so many glasses on a table at one time?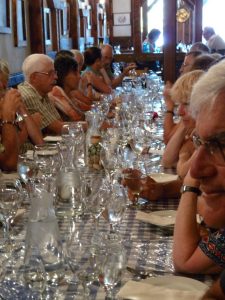 This was my second trip with CCCTS and I was curious as to how it would compare to the camping trip through the Southern Rockies which I enjoyed so much last year. I missed the campfires and music as well as the camp food so well prepared and served every morning and evening.  Had it rained this year I know I would have been grateful for a shower and a roof over my head each night.  Given such good weather however, I would have to give each trip equal weighting….apples and oranges… two very different experiences.  Thank you Doug and Brigitte for all your work to make this tour happen!
I will conclude with a few pictures of the spectacular scenery we enjoyed along the way.  We are very fortunate to live in such a beautiful part of the world.
[easyrotator]erc_92_1501291245[/easyrotator]
Christine Scott