Leader: Bruce Daykin 250-858-0304
Co-leader: Doris Maron 250-763-2025
Trip Dates: Wed, 22 Jul 2020 -- Tue, 11 Aug 2020
Trip Classification: Intermediate/ Advanced
Trip Fee: $1900 CAD
Trip Numbers: minimum 10 , maximum 16
Trip Registration Opens: Sun, 2 Feb 2020 5:00 PM (pacific time)
Registration Lottery Ends: Thu, 6 Feb 2020 5:00 PM (pacific time)
Trip Registration Closes: Mon, 15 Jun 2020 7:00 PM (pacific time)
Ride Description: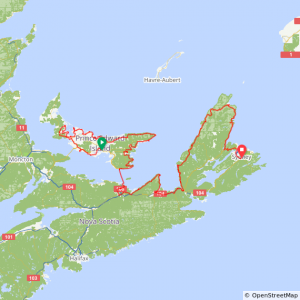 This Tour has been Cancelled due to COVID-19
This 21 day mostly-camping tour features two lovely islands of the maritimes, Prince Edward Island and Cape Breton Island.  The tour will begin in Charlottetown, PEI and finish in Sidney, Nova Scotia.  The trip has been timed to have a good chance of capturing the prime summer weather for the region.
Prince Edward Island is often described as a cyclists dream, with quiet country roads in  flat or gently rolling terrain, an island wide rail-trail, and scenery worth slowing down for. This tour will follow coastal routes around much of the perimeter of the island, for about 500km.  Many of the campsites will be on seaside locations.  PEI is famous for its beaches, dunes and relatively warm ocean waters. PEI has rich and vibrant culture with playhouses and music shows and friendly islanders. 
Cape Breton Island - miles of coastline, exceptional scenery, rich culture—there's a reason this is one of the world's top island destinations and one of the most famous bicycle rides in Canada. Our tour will cover about 400 km of the island, along the west coast and around the famous Cabot Trail, which features some challenging hills and awesome ocean views.  Cape Breton ancestry is deep and alive in the roots of local communities. It's a place where  Aboriginal, Gaelic, and Acadian cultures carve out communities.  Where awe-inspiring land and seascapes give way to outdoor adventure and a proud history, where roadways hug the coastline offering spectacular views. More friendly islanders. 
The route between the islands will include a ferry and a ride along the Northumberland Shore of Nova Scotia for about 200 km.
Charlottetown, PEI and Sidney, NS  have airports with several flights per day connecting to western Canada, which will carry bikes in suitable containers for a fee. Cardboard bike boxes can be flattened at the start of the ride and carried on the support truck for re-use at the finish.
The format for the tour will follow the tradition of CCCTS Camping Tours where participants can enjoy wonderful hearty meals prepared by the participants, plenty of time to socialize in the campgrounds, and will feature live music and singing around the campfire on some evenings.  There should be opportunities to enjoy local plays or music in places such as Charlottetown and Georgetown, PEI and possibly on Cape Breton.
Accommodation Reservations:
There will be 16 nights of camping in private, or government campgrounds, where hot showers are provided. Swimming will be  an option at some campgrounds in pools or the ocean.  A camp kitchen will be provided and participants will share in shopping for provisions and  cooking communal meals, and in driving the vehicle, according to a pre-determined roster of cook-teams.   Cook-teams are typically on duty about every 5 days.  Participants must bring personal camping equipment such as tents, mattresses, sleeping bags, eating utensils, etc.   The communal equipment includes stove, pots and pans, kitchen tables, pop-up shelters, coolers, and lawn chairs.
There will be 4 nights in hotels included, where rooms will be shared by couples or same gender singles. 
At the time of publication, some of the campgrounds have not been taking reservations yet for 2020.  Reservations at these locations will be  finalized in the spring, and may be subject to change. 
Riding Conditions:
The total route is 1150 km/ 11,000 m ascent over 16 days of riding, with an average of 72 km per day. The first 8 days on PEI will be flat to gently rolling terrain, with average daily ascents of 500m, and will make a nice warm up for the second stage of the tour.
The second eight days on Northumberland Shore and Cape Breton Island will include more climbing, with an average of 900 m per day.  There are 2 days of challenging climbs on the Cabot Trail, but the spectacular views of the ocean are the reward:  Day 16, at the top of the Cabot Trail, will challenge us with 1300m of climbing over two passes  consisting of 5 km at 8% gradient, and then 3 km at 12%.  There may be short sections of grades up to 14-16%. Distance that day is only 70 kms so riders can take their time.  Day 17 also poses 1400m of climbing with some harder sections, but not nearly as challenging as the previous day.  These climbing conditions are why the tour rating is partially "advanced". See the profile under ride description, and daily distances and ascents in the itinerary.
The route  follows the coast of both islands, although the roads are often set back from the shore and the ocean will not always be visible.  Traffic for most of the route is expected to be moderate or low, and we are advised that drivers are generally in the habit of giving cyclists ample room when passing.  Most of the roads will not include paved shoulders, and the condition of the pavement will vary. There are a few sections of bike paths or rail-trail with well packed gravel or pavement. 
The support vehicle is not intended to function as a sag-wagon, but can transport riders and a bike in the event of injury, illness, or mechanical breakdown. 
Fee Includes:
The fee includes accommodations, breakfast and dinner in campgrounds, packed lunches, coffee breaks and snacks and happy hour appetizers, and the support vehicle, which will haul the communal kitchen and personal baggage.  Misc. expenses include firewood, propane, maps, cue sheets, and equipment storage.  Soft costs include tour leader compensation and contingency allowance.  The fee is based on the minimum number of riders, so a surplus may result if the ride is fully subscribed. Any surplus funds remaining after the tour are returned to the participants.
Fee Does Not Include:
The fee does not include transportation to the start and end of the ride, drinks or meals when staying in hotels, rental bikes if desired, entertainment or admissions, ferry fare from PEI to NS.  A beer and wine pool will be operated at cost.
Itinerary:
CCCTS Tour:
2020 Prince Edward & Cape Breton Islands
Itinerary, Dec. 2019
Day of Ride
Day of week
Date
Destination
Distance km
Total Distance
Ascent m
Accommodation
 
Wed
22-Jul
Charlottetown, PEI, arrival
 
 
 
Charlottetown Inn
 
Thur
23-Jul
Charlottetown prep. Day
 
 
 
Charlottetown Inn
1
Fri
24-Jul
Cumberland Cove
50
50
383
Cumberland Cove Campground (private)
2
Sat
25-Jul
Green Park
76
126
387
Green Park Campground (private)
3
Sun
26-Jul
Malpeque
71
197
378
Cabot Beach Prov. Park 
4
Mon
27-Jul
Rustico
80
277
807
Cymbria Campground (private)
5
Tue
28-Jul
St Peters
51
328
226
St. Peters Campground (private)
6
Wed
29-Jul
Red Point
75
403
576
Red Point Prov. Camp. or Campbells Cove (private)
7
Thur
30-Jul
Red Point Rest day
 
403
 
Red Point Prov. Camp. or Campbells Cove (private)
8
Fri
31-Jul
Brudenell River, PEI
64
467
581
Rodd Hotel Resort
9
Sat
01-Aug
to Pictou, Nova Scotia ride/ferry 
82
549
515
Harbour Light Campground (private, pool, beach, laundry)
10
Sun
02-Aug
near Barney's River
64
613
635
Cranberry Campground (private, pool)
11
Mon
03-Aug
Antigonish
83
696
1015
Whidden Campground (private, pool)
12
Tue
04-Aug
Antigonish Rest day
 
696
 
Whidden Campground (private, pool)
13
Wed
05-Aug
Port Hood, Cape Breton
104
800
939
Sunset Sands RV & CG, Port Hood (private)
14
Thur
06-Aug
Dunvegan
50
850
615
McLeod's Beach Campground (private)
15
Fri
07-Aug
Cheticamp
62
912
525
Cheticamp Campground National Park
16
Sat
08-Aug
South Harbour
70
982
1444
Hide Away Campground (private)
17
Sun
09-Aug
Englishtown
95
1077
1282
Joyful Journey Campground (private)
18
Mon
10-Aug
Sydney
69
1146

698

Martin Arms Hotel

 
Tue
11-Aug
Departure
 
 
 
 
 
 
 
Total distance/ ascent
1146
 
  11,006
 4 hotel nights shown yellow
 
 
 
No. riding days
16
 
 
 
 
 
 
Avg. daily distance/ climb
71.6
 
 
2 rest days shown green
 
 
 
Total nights
20
 
 
16 nights camping
Registration and Participant Selection:
Registration will be on the CCCTS website on the dates shown. A  computerized lottery system and waitlist will be utilized in the event that the ride is over-subscribed.  A $50 deposit is required when registering. The lottery signup will run until the lottery closing date shown, after which time the leaders will review the results.
The selection process will consider the following standard CCCTS criteria in evaluating candidates:
fitness and riding ability and experience required for the tour,
a history of demonstrating safe riding practices,
a history of acceptable social behavior,
pairing of same gender singles for hotel rooms,
preferred candidates may be chosen by leaders for up to 30% of the registrants.
The leaders may interview registrants or others who know them to verify their suitability for the tour.   
The leaders will notify registrants of their selection status and request the successful registrants make the next payment. If the ride is not filled to capacity, registration will continue until the registration closing date shown. Deposits are non refundable, except when ride is cancelled or registrant is not accepted and wishes to be removed from the waitlist.  Payments are considered non-refundable in the event of participant cancellation, unless replacement persons are found.
Payment Schedule:
Deposit when registering; $50, 
Second payment approx. Feb 20: $850 
Third and final payment May 31: $1,000     Total $1,900
Participants
:
Calvin Bergenstein , Terry Chalmers, Bruce Daykin, wenda daykin, Garry Esau, Danilo Filippin, Lise Fraser, Don Gemmell, Elly Khazaei, Nancy Luitwieler , Jenni Lynnea, Doris Maron, Jacob Van Der Heide, colleen vanderheide, Dianne White