Leader: Christiane Selenz 250-598-9632
Co-leader: Lani Schultz 778-440-4981
Trip Dates: Fri, 4 Sep 2020 -- Tue, 15 Sep 2020
Trip Classification: Intermediate / Advanced
Trip Fee: $1820 CAD
Trip Numbers: minimum 12 , maximum 20
Trip Registration Opens: Sun, 23 Feb 2020 6:00 PM (pacific time)
Registration Lottery Ends: Fri, 28 Feb 2020 6:00 PM (pacific time)
Trip Registration Closes: Wed, 1 Jul 2020 6:00 PM (pacific time)
Ride Description:
The ride explores in Germany the Schleswig-Holstein and Mecklenburg  area with lots of historical sights and great variety of landscapes.
The tour leader Chris is a CCCTS member in Victoria, of German origin, fluent in the German language and familiar with the area. The support van driver is a local and fluent in German and  English as well.  The tour leader is happy to ride as a group leader for those who prefer this.
The first section begins in Kiel and follows the Nord-Ostsee Canal to Brunsbuttel.  Travelling north along the dyke regions of the North Sea we come to the town of Friedrichstadt on the Eider River.  We then head east down the Schlei fjord eventually ending up in Kappeln.  We cycle through nature parks to Ploen and then to Luebeck, famous for its marzipan, where we will tour the factory.  Then crossing into the former East Germany following the Baltic Sea coast east for 3 days.  We finish in the seaside resort and port town of Sassnitz on the island of Ruegen.
Accommodation Reservations:
The accommodation is 100% in hotels based on double occupancy. Breakfast is included. A Group Dinner will be provided for the first and last nights.
We will be staying in hotels of varying standard, please note some German double rooms are small and often contain only one bed rather than two single beds which is much more common in Canada.  We will try to accommodate the single travellers as best as possible. Double beds can be split apart most of the time and turned into two beds. Only two hotels are not able to split the mattress apart. They always have their own covers like you see in the pictures.
Most Hotels are within easy walking distance of restaurants or shops.  Bicycles will not be permitted in the room so please bring your own lock. We will endeavor to arrange suitable security each night.
Riding Conditions:

The ride is reasonably flat and will be a mix of bike paths and quiet country roads where possible. It will be on asphalt and a regular touring bike will be suitable.
The ride is self-supported, you can download the Ride with GPS info and you will be provided with cue sheets for each day. You will have a suggested route map provided as well as point of interest sheet. You will be responsible for your navigation and nutrition along the way.
Fee Includes:
-Hotels with breakfast
-first and last night group dinner
-use of support van to transport overnight luggage-vehicle rental and driver
-daily map and point of interest notes, Ride with GPS maps and cue sheets will be provided
-a 10% contingency allowance
-a 6% exchange rate
-a 3.5% visa transaction fee
-leader and co-leader compensation
Fee Does Not Include:
-The air fares or train transfers
-lunch dinner or midday snacks and drinks along the way
-bike rental (if required) is possible in Kiel
-travel insurance
There are two stores in Kiel offering bicycle rental if required.
Fahrradverleih Kiel  (www.fahrradverleih-kiel.de)
One2Bike   (www.fahrrad-an-verkauf-0ne-2-bike.business.site)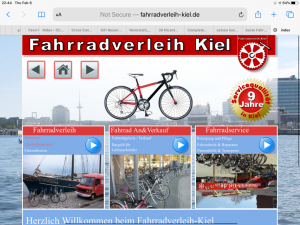 From your final destination it is easy to wheel your bike onto a train back to Kiel.
Itinerary:
The tour would start In Kiel. Participants could fly into Frankfurt or Hamburg and take the train to Kiel.
Day
Date
Day of week
From
To
Hotel
Distance  Kms
Elevation meters
1
Sep-04
Fri
We meet on September 4th in the Hotel Flämischen Hof.
 
 
 
 
 
 A welcome dinner is arranged
 
 
2
Sep-05
Sat.
Kiel
Rendsburg
Hotel Tuxen
69.7
388
3
Sep-06
Sun
Rendsburg
Brunsbuettel
Schleusenhotel
77.1
157
4
Sep-07
Mon
Brunsbuettel
Friedrichstadt
Hotel Herzog Friedrich
101.7
203
5
Sep-08
Tue
Friedrichstadt
Kappeln
Hotel Schleifee
85.5
409
6
Sep-09
Wed
Kappeln
Ploen
Lakehouse Ploen
127.7
825
7
Sep-10
Thur
Ploen
Luebeck
Park Hotel
80.5
397
8
Sep-11
Fri
Luebeck
Wismar
Hotel Schwedenhaus
78.1
444
9
Sep-12
Sat
Wismar
Rostock
Hotel an der Stadthalle
85
437
10
Sep-13
Sun
Rostock
Stralsund
Hotel Schweriner Hof
117.2
501
11
Sep-14
Mon
Stralsund
Sassnitz
Top Motel
59
478
 
A farewell dinner will celebrate the tour end
 
 
 
12
Sep-15
Tue
Tour ends after breakfast.
 
 
 
 
It's a great town to stay longer or get to different areas if cyclists want to continue traveling.
 
Trains are available back to airports or to return rental bikes to Kiel.
 
 
The total distance is about 881 km if the recommended route is followed. Most days have the option to extend, alter or shorten the day.
The extensive train network is bike friendly and can be used to shorten many of your days or create your own rest day. Alternate routes can be discussed at rider meetings the evening before. We will have a support van and driver  to carry our overnight luggage to the next accommodation. There will be no sweep rider or sag wagon.
Registration and Participant Selection:
Registration will take place on the CCCTS website at the date and time noted above, with a $50 deposit.  A computer-generated lottery system will be used to assist in the selection of riders and waitlist in the event that the ride is oversubscribed. The lottery signup will run for 5 days, after which time a wait list is automatically generated and the leader will review the results.
The  registrants will be considered in terms of suitability for the tour according to the following criteria:
fitness and riding experience relative to this tour
safe riding habits demonstrated on previous rides
acceptable social behavior
The leader may contact registrants or others who know them to verify their suitability. The leader may select up to 30% of the candidates based on preference. The leader will contact registrants within 2 weeks of the close of lottery.  Successful registrants will be directed to make the second payment of $770 at that time. The final payment of $1000 will be due on July 1. The fee is based on the minimum number of riders (12)  $1820.- If we are a full group of 20 participants we expect to be able to make a refund after the tour is completed.  Any unused funds are returned to the participants after the tour.
If the ride is not filled to capacity, registration will still be allowed up until the registration close date shown above.  Deposits are non-refundable unless registrant is not selected.  Payments are non-refundable unless replacement person(s) are found.
Registered
:
Karen Burt 638, Delores Franz Los 892, Colleen Kelly 778, Berni Koppe 699, Brian Livsey 773, Susan McKenzie 443, Peter Nabein 611, Alexandra Phillion 221, Bernard Phillion 449, Leslie Rodgers 871, Dianne Schneidmiller 462, Gene Schneidmiller 650, Lani Schultz 1000, Christiane Selenz 1000, Jill Sperle 728, ,