Leader: Linda Graupner 613-825-8873
Co-leader: Chris Hayes 613-762-1470
Co-leader: Marg Hurley 613-820-7618
Trip Dates: Tue, 7 Nov 2023 -- Wed, 15 Nov 2023
Trip Classification: Intermediate
Trip Fee: $75 CAD
Trip Numbers: minimum 10 , maximum 20
Trip Registration Opens: Mon, 23 Jan 2023 4:00 PM (pacific time)
Registration Lottery Ends: Sat, 28 Jan 2023 4:00 PM (pacific time)
Trip Registration Closes: Mon, 2 Oct 2023 8:00 PM (pacific time)
Ride Description:
Founded in 1565, St. Augustine is the oldest city in the United States and is known for its Spanish colonial architecture as well as Atlantic Ocean beaches.
This 8-day hub and spoke is centred in St. Augustine Beach on the sunny shores of the Atlantic Coast of Florida. There is a mix of things to see in the area, ranging from historical forts to animal and natural sights to pleasant pathways to quaint shopping and artistic farmer's markets, to name a few. The 7 rides will focus primarily on sightseeing and providing an overview of the area. There will be one non-cycling day available for sightseeing or relaxing on the beach.  
Considerations
Before registering for this tour, participants should be aware of the following:
You will need a vehicle to transport you and your bike to the remote starts.
Pricing in Florida has increased considerably and many hotels and condos now require deposits which can be large and non-refundable. You are responsible for any cancellation fees as well as any policy or pricing changes at your chosen accommodation.
This is a very picturesque area full of things to see and do. Participants may want to consider staying longer in the area. Longer stays MAY also result in a lower per night accommodation rate.
COVID Information
CCCTS riding guidelines including applicable Covid guidelines will apply.  CCCTS requires all participants to be fully vaccinated, and proof may be requested by the leaders.
Everyone should bring a COVID test kit(s) with them on the tour and take responsibility for self-testing if they feel ill. 
Travel
The nearest airport is Jacksonville International Airport, about a 1 to 1.5 hour drive away. The Orlando International Airport is about a 2 to 2.5 hour drive away.
You will need a vehicle/rental vehicle to carry you and your bike to the remote starts. 
Some general information on driving routes to Florida from Ontario is available on request. You may also consider checking with the CAA if you are a member.
Bike rentals are available at various bike shops in Jacksonville or St. Augustine/St. Augustine Beach and area. You will need to research which location meets your needs. 
Participants must have out-of-country medical insurance for this trip, including coverage for COVID-related illness.
Accommodation Reservations: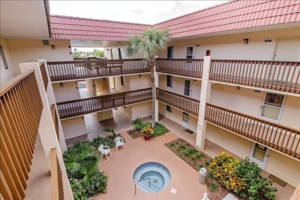 Each participant is responsible for making their own reservations at the St. Augustine Ocean & Racquet Club Condominium Resort (https://www.oceanandracquet.com/).   Each unit is a 2 bedroom, 2 full bath condo, with a fully stocked kitchen and washer/dryer, spacious enough to be shared by 2-4 people.  Prices range from U.S. $150 to $225 per unit per night, plus taxes and fees.  The condo complex also offers 2 pools, 5 hot tubs, a boardwalk over the dunes to the beach, tennis and pickleball courts, and other amenities. 
Although we recommend staying at the above-mentioned accommodation, where we will begin our rides and join together for happy hour and ride briefings, there are other options nearby, including more traditional hotel accommodation such as Quality Inn & Suites St Augustine Beach Area
Riding Conditions: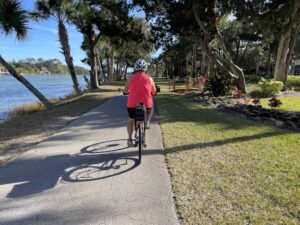 The daily rides will range from 40 to 80 kms, with time to stop and enjoy an overview of historical sites, scenic views, local attractions, etc.  For those who prefer to spend more time in the saddle, there will be longer ride options some days.  We will divide into groups each day to accommodate different riding speeds and distances, each with its own ride leader.
Riding is on a mix of dedicated bike paths, wide sidewalks, highways with good shoulders, and city streets, including occasionally busy downtown streets. You need to be comfortable riding in traffic and occasionally crossing a busy road. Cars may or may not stop for bikes, so you must practice safe cycling and obey all traffic signals.
Since we will be combining sightseeing with cycling, participants should bring a bicycle lock and should wear or bring along shoes that are comfortable for walking.  On some rides there will be frequent stops to point out local points of interest. Expect to get on and off the bike on occasion.  
While we hope for the typical sunny "November in Florida" cycling weather, we could also be riding in cool temperatures and/or in light rain.
Fee Includes:
The Cdn. $75 fee will cover the organizational costs and supplies, pre-riding expenses of the tour leaders, and some shared costs. The fee is non-refundable.
Fee Does Not Include:
Accommodation, meals, bike rental, park admission costs, or individual expenses of participants.
Itinerary:
Tuesday November 7, 2023
1:30 pm:  Safety briefing and 20 km familiarisation ride of the St. Augustine Beach area, with possible stop at the Saint Augustine Lighthouse. 
Wednesday November 8 to Tuesday November 14, 2023
The following is a tentative list of rides, with approximate distances which are subject to change.  The order in which we do these rides, and our daily start times, will depend on weather and wind.   There will be a non-cycling day with options for sightseeing, relaxing on the beach, shopping, etc.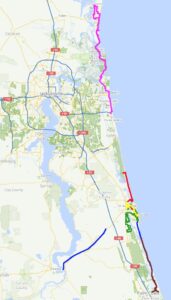 St. Augustine Overview Tour

:

a leisurely day exploring the sights of

 downtown St. Augustine, riding mostly on residential and city roads. Tour the sights and enjoy lunch at one of the many take-out restaurants or bring a picnic lunch.

41 kms

North via Vilano

: we will ride north out of St. Augustine to the pretty beach town of Vilano and then ride along the ocean with sweeping views of sand and waves to the Guana River Wildlife Management Area. Ride is primarily on Highway A1A which is popular with cyclists and has a paved shoulder most of the way. 

61 km

(with possible extension to 100 km)

South to the Palm Coast

:

we will ride south out of St. Augustine Beach, with the ocean on our left, along Highway

A1A, mostly with a wide shoulder or separated pathway.  Our destination is Palm Coast where we will cycle along the tree-lined Linear Park Trail and the St. Joe Walkway following the intracoastal waterway, before returning to St. Augustine Beach.  Lunch and a bit of shopping may be in order at the quaint European Villages. 

76 kms (61 km remote start option).

Amelia Island

This is a beautiful ride mostly on nature trails, well worth the 1.5 hour drive and ferry ride to its starting point.  The ride follows highway and nature trails from Little Talbot Island up to the beautiful and quaint town of Fernandina Beach with stops along the way. 61 km (with possible extension to 100 km).

Palatka Trail

:  We will enjoy a paved multi-use pathway through agricultural areas and forests, called the

Palatka-to-St. Augustine State Trail

.  This rail trail will take us inland from St. Augustine to East Palatka where we will have lunch.

55 kms with a remote start.  

Anastasia State Park/Shore Drive Loop:

This is a scenic ride to Anastasia State Park followed by a ride to Shore Drive, a residential road following the Matanzas River.

63 kms.
We will have a full day's ride on the 14th, and the Hub and Spoke will end that evening.
Registration and Participant Selection:
Registration will be on the CCCTS website on the date shown. A computerized lottery system and waitlist will be utilized in the event that the ride is over-subscribed.  A $75 CAD payment is required at the time of registration. The lottery signup will run  for 5 days, after which time the leaders will review the results.
The selection process will consider the following criteria in evaluating candidates:
fitness and riding ability and experience required for the tour,

a history of demonstrating safe riding practices,

acceptable social behaviour.
The leader may interview riders or others who know them to verify their suitability for the tour.
The leader will notify registrants of their selection status. If the ride is not filled to capacity, registration will continue until the closing dates shown. Registration Fee payments are non-refundable, except in the case of a cyclist who is wait listed and does not make it to the Ride's "Go List".