Leader: Janet Whitehead 604-516-9455
Co-leader: Clark Woodland 604-541-8235
Tour Contractor: Sitnica Tour Agency
Trip Dates: Mon, 21 Aug 2023 -- Mon, 4 Sep 2023
Trip Classification: Intermediate/Advanced
Trip Fee: $3550 CAD
Trip Numbers: minimum 12 , maximum 16
Trip Registration Opens: Mon, 16 Jan 2023 9:00 AM (pacific time)
Registration Lottery Ends: Thu, 19 Jan 2023 5:00 PM (pacific time)
Trip Registration Closes: Tue, 28 Feb 2023 5:00 PM (pacific time)
Ride Description:
Cycle through the heart of Europe through parts of the Czech Republic, Austria, Slovakia and Hungary. Our route meanders by castles, through rustic villages, and along waterways as we enjoy the former territories of the Austro-Hungarian Empire. The highlights include UNESCO World Heritage Sites, national parks and wine making regions. Prague and Budapest International Airports make for easy access to our start and finish locations. 
Accommodation Reservations:
Accommodation will be in 3 and 4 star hotels, guesthouses and/or B&B's and costs are based on two people sharing. Rooms in Europe tend to be smaller than in North America and if twin beds are available, they may be close together.  Single supplement is 525E and this option may be limited due to hotel room constraints.  If you are traveling solo and would like a roommate, we will attempt to find one for you after the lottery closes. Please note at the time of registration if you want a single room or are looking for a roommate.  


 


Riding Conditions:
We average 72km per day with an average elevation change of 508 meters on our 12 days of cycling. Most of the riding will be on paved roads and paths with some unpaved sections.  Refer to the daily itinerary for more information on distances and elevation.  According to the Tour Contractor's rating system, this tour has a Grade 3 rating which is considered moderate and is suitable for cyclists who cycle regularly and are used to hills and distances of up to 90km in a day.  CCCTS classification: Intermediate/Advanced tour. 
Fee Includes:
Sitnica Tour Agency charges 2150 Euros per person for this tour. The tour fee listed in Canadian funds includes credit card stripe fee (3%), bank wire fees and a currency exchange risk of $240. Excess funds collected for currency exchange will be refunded. 
Accommodation – 15 nights

 

All breakfasts

 

7 dinners as listed INCLUDED in the itinerary

 

A wine and beer tasting

English speaking cycling guide and driver

 

Support vehicle, luggage transport including bike boxes

 

Water, fruit, and energy bars on cycling days

 

Routes on Ride with GPS

 

Basic bike repair assistance while riding 

 

SITNICA Tourist Agency Liability Insurance

 
Payment Dates & Amounts:
April 30th  $700CAD (430E) 
June 15th  $2130CAD (1,290E)
The final payment of 430E (cash) is made on the first day of the tour. 
Fee Does Not Include:
Arrival transfers to Cesky Krumlov and departure transfers from Budapest

 

Bike rental. Touring/hybrid bikes

260E (Cash upon arrival). 

A limited number of

E bikes will be available for rent 600E.

 

Dinners listed as NOT INCLUDED in the itinerary

 

Transportation on free days 

 

Travel/Health/Trip Cancellation Insurance

 

Single supplement.  If available, additional cost $865 CAD (

525E)

for 15 nights and  paid with first installment

 

All lunches

 
It is recommended that all registrants have trip cancellation insurance before making any flight or tour payments. Sitnica Tourist Agency provides partial refunds under certain circumstances and charges will apply. 
Itinerary:
Day 1:  August 21st,Cesky Krumlov, Czech Republic 
Our tour starts in Cesky Krumlov is approximately 175km from Prague and has frequent bus and train service. This stunningly beautiful town in southern Bohemia is a UNESCO World Heritage Site and popular with tourists. On Day 1 we'll meet with Alen (our guide and owner of Sitnica Tourist Agency), receive a briefing, and our rental bikes.  There will be a Welcome Dinner with traditional Czech food. DINNER INCLUDED. 
Day 2: Cesky Krumlov to Jindřichův Hradec 
Approx. 80 kms with 730 m ∆, 4% unpaved  
The area we cycle through is a part of the UNESCO World Network of Biosphere Reserves and you'll find hundreds of ponds, rivers and canals which have been gradually built-up since the 15th century. The elegant Renaissance chateau mirrored in the Vajgar Pond has been the symbol of Jindřichův Hradec for hundreds of years. This city has numerous historical monuments. DINNER INCLUDED.  
Day 3: Jindrichuv Hradec to Telč 
Approx. 45 kms with 625m ∆, 1% unpaved. We cycle through a protected natural area and arrive in the fairytale-like little town of Telč which looks like it has come straight from the stories of Hans Christian Andersen. There's a romantic chateau and crystal-clear fishponds surround the city. Telč is known for its preserved town square and the facades of the homes that surround it. DINNER NOT INCLUDED but there is an option for Beer tasting.  
Day 4: Telč  to Znojmo 
Approx. 90 kms with 1040 m ∆ - 3% unpaved 
This wine region lies in the rain shadow and on the foothills of the Bohemia-Moravian highland, whose stony soils are excellent for the cultivation of white and red varieties of grapes. Our destination is the historic town of Znojmo situated above the Dyje River. The Mediaeval walled town centre contains numerous churches and picturesque nooks and crannies. DINNER NOT INCLUDED.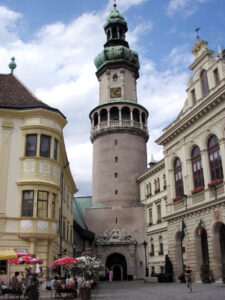 Day 5: Znojmo to Mikulov  
Approx. 72 kms with 345 m ∆ - 2% unpaved  
We cycle through idyllic countryside along the Austrian border that is rich in history. We stay in Mikulov for two nights to enjoy this beautiful town. DINNER INCLUDED. 
Day 6: Mikulov-Day off 
Enjoy a day off your bike to explore the historic town square, the many churches and walk the educational trail through the Jewish Quarter. You have the option to enjoy a short ride through the spectacular built landscape of Lednice-Valtice countryside with Baroque and Gothic castles. DINNER NOT INCLUDED. 
Day 7: Mikulov to Poysdorf, Austria 
Approx. 44 kms with 530 m ∆ - 7% unpaved  
Poysdorf in Austria is a wine metropolis as well as a paradise for recreational athletes. DINNER and WINE TASTING INCLUDED.    
Day 8: Poysdorf to Bratislava, Slovak Republic 
Approx. 94 kms with 600 m ∆ - 21% unpaved 
We leave Austria and cycle to the capital of the Slovak Republic; Bratislava, which straddles the Danube and the borders between Austria and Hungary. The former capital of the Kingdon of Hungary is now a modern city and the centre of the most dynamically developing region of central Europe. DINNER NOT INCLUDED 
 Day 9: Bratislava - Day off 
There is lots to do and see in the social and cultural life of the region. Bratislava is home to several universities, museums, theatres and galleries. DINNER NOT INCLUDED.  
Day 10: Bratislava to Sopron, Hungary  
Approx. 95 kms with 530 m ∆ - 4% unpaved
We leave the Slovak Republic and cycle in Austria while on our way to Hungary. Our destination of Sopron, is situated at the foot of the Alps and is considered one of the architectural jewel boxes of Hungary. Roman city walls, centuries old palaces, churches, homes and the main square have stories to tell. DINNER INCLUDED
Day 11: Sopron to Gols, Austria 
Approx. 76 kms / cca. 350 m ∆ - 7% unpaved 
Back to Austria, we cycle around the shallow, reedy Neusiedler Lake, which is home to many species of rare and migratory birds. This wine-growing region of Austria is a popular destination. DINNER NOT INCLUDED.  
Day 12: Gols to Győr, Hungary  
Approx. 73 kms with 350 m ∆ - 0% unpaved 
Back to Hungary, we cycle to the city of Győr, which has an enchanting centre and beautiful Baroque buildings. The ancient core of the city is Káptalan Hill is located at the confluence of three rivers: the Danube, Rába, and Rábca. DINNER NOT INCLUDED. 
Day 13: Gyor to Tata 
Approx. 70 kms with 280 m ∆ - 16% unpaved 
Tata is a real gem at the border of the Gerecse- and Vértes mountains. Enjoy the city's lakes, streams, channels, hot springs and waterwheels. DINNER INCLUDED.  
Day 14: Tata to Visegrád  
Approx. 74 kms with 480 m ∆ - 3% unpaved 
Ride a portion of the Danube Cycle Path, which is one of the most scenic cycling routes in Europe as we cycle closer to our final destination. The small castle town of Visegrád, situated on the banks of the Danube will take you back to the Middle Ages. Visit the Citadel which has an extraordinary view of the Danube Bend and is host to many exhibitions. DINNER NOT INCLUDED. 
Day 15: Visegrad to Budapest 
Approx. 50 kms with 250 m ∆ - 6% unpaved  
A short cycling day to Budapest, a city in a stunning natural setting rich with architectural and historical heritage. The city offers an unmatched combination of culture, fine cuisine and thermal baths...Budapest — with the majestic Danube in the middle. Buda, with its romantic atmosphere on one side and Pest, a dynamic cultural center on the other. FAREWELL DINNER INCLUDED.  
Tuesday, September 5th
Enjoy your last breakfast of the tour and get ready for your departure.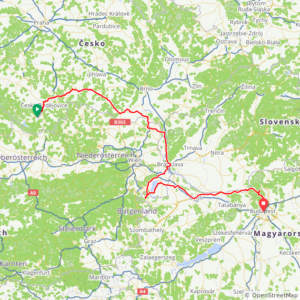 Registration and Participant Selection:
Registration will be on the CCCTS website on the date shown. A computerized lottery system and waitlist will be used if the ride is over-subscribed. A CAD $50 payment is required at the time of registration. The lottery signup will run for 4 days, after which the Ride Leaders will review the results. 
The selection process will consider the following criteria in evaluating candidates: 
fitness and riding ability and experience required for the tour,

 

a history of demonstrating safe riding practices,

 

acceptable social behavior.
The leader may interview riders or others who know them to verify their suitability for the tour. 
The leader will notify registrants of their selection status. If the ride is not filled, registration will continue until the closing dates shown.

 

Registration fee is $50 CAD. After you have been notified you are selected for the tour, the tour fees will be due as follows:
| | |
| --- | --- |
| April 30, 2023 | $700 CAD |
| June 15, 2023 | $2130 CAD |
Please note that the registration and two instalments are in CAD funds with final payment of 430 Euros on Day 1 of the tour.

 
In the event a cyclist needs to cancel their trip, they must notify Sitnica and tour leaders in writing and the following charges apply:
| | | |
| --- | --- | --- |
| Dates: | Cancellation fee in Euros: | Amount: |
| May 1 – June 14, 2023 | 20% of tour cost | 430E (approx. 680CAD) |
| June 15 – August 1, 2023 | 50% of tour cost | 1075E (approx. 1720CAD) |
| After August 1, 2023 | 80% of tour cost | 1720E (approx. 2752CAD) |
COVID Information: 
CCCTS riding guidelines including applicable COVID guidelines will apply.  CCCTS requires all participants to be fully vaccinated, and proof may be requested by the leaders.

 

Everyone should bring a COVID test kit(s) with them on the tour and take responsibility for self-testing if they feel ill.

 
Participants
:
Elisabeth Buxbaum, Terry Chalmers, Ron Kot, Jody Krehel, Ramona Lee, Tommy Lee, Brian Livsey , Annemieke Quinn, Howard Quinn, margo roden, Robert Roden, Leslie Rodgers, Janet Whitehead, Larry Wilson, Trish Wilson, Peter Winford, Clark Woodland